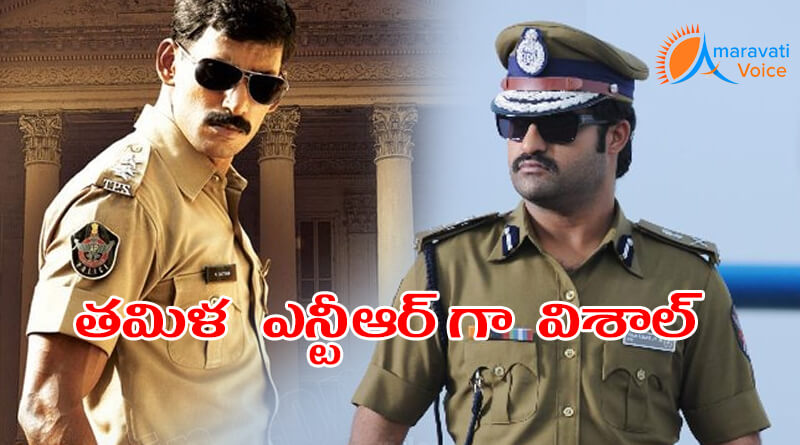 Tamil star who played a keyrole during Nadigar elections is now trying to plan his future with remake films. Vishal, a native telugu star who rose in Kollywood as super star has hit up screen with many hits in recents time and turned as youth icon with his recent deeds and social activities. Even the famous political parties are planning to bring up Vishal into politics basing on his star image and mass following.
Now, the star who is ready to hit telugu screens with his recent movie Kathakali is planning to remake a block buster telugu film into Tamil says tamil media sources. Vishal, who takes keen intrest and dares to try new films which are different from regular stuff is now planning to remake Telugu super star,Young tiger's latest huge hit Temper,which made Tarak to regain his star image in Tollywood after a long time.
Vishal, who watched Tarak's temper in recent time is now showing intrest and planning to remake Temper, which was expected to be a remake by Simbu, a close associate of Tarak. Vishal, who watched the film commented that it would suit his physic and nature as the characterisation of Tarak as police looks something different from his movies. Even Tarak, tried six pack to make justice for his film as a police officer who becomes reson for spoiling ang loosing of a girl's life wih his corrupt nature. It may take a short time to hear the news of Vishal tearing Tarak's place as police says his close ones. The movie may on sets after a few changes as per taml nativity says the sources. If everything goes quite we may see Vishal replacing Tarak in Tamil Temper.