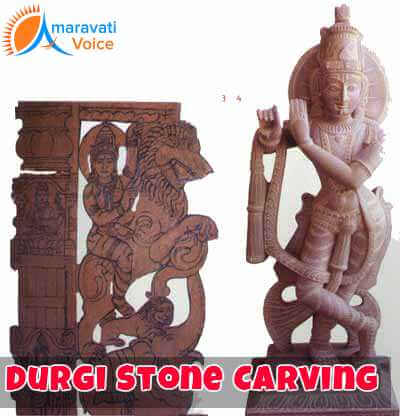 Summary: If you are more into arts and crafts, the best thing you can do when you visit Andhra is to take home an idol made under Durgi Stone Craft.
The state of AP is popular not just for the beauty associated with different cities and villages, but she is also well-known for her arts and crafts. Crafts here means handmade crafts and there are artisans in this state, who are specialized in creating different crafts like Kondapalli dolls, leather puppet dolls and they are also good at Durgi Stone Crafts. These crafts are not just popular within the state, but they are popular all over India and abroad as well.
About Durgi Stone Crafts:
In the state of AP, Guntur region is popular for Durgi Stone crafts and these works typify that rich and wealthy cultural heritage of the region. In this district, there is a region called Palnadu and this region has a small town called as Durgi. The stone art is known to have evolved from this small town, thereby having its name during the 15th century. Even though, nowadays, costlier stones like granites are used for production of idols for gods and goddesses, simple, yet effective stones were popular those days and one such stone is Durgi.
Nowadays, many owners of homes and commercial establishments look for cravings that are made in attractive stones like Durgi for placing in their homes and commercial establishments as a symbol of beauty. Even though, Durgi stone is widely used by the dealers for production of smaller idols and paper weights. Durgi town is not just popular for these cultural crafts, but this place is popular for many of its historical sites and religious attractions. Besides smaller items, temple chariots and Hindu temple dome models are also created for decorative purpose with these attractive Durgi stones. Also, the artisans create sculptures in the size of 6-12 inches with these stones. In addition, during the manufacturing process, they make use of small chisels.
What does this art form involve?
Durgi stone art involves the technique of turning the rigid and hard rocks into smaller pieces such that attractive works that can be created in different sizes, shapes, designs and styles for the purchasers to choose from. Generally, we wish to decorate the corners in our home with some attractive pieces of works and in these places Durgi stone crafts can look attractive and can enhance the entire look.
Where to learn about Durgi Stone Craft?
Durgi Village has a few places and schools for making sculptures with Durgi Stone. There are Durgi inhibits in the Nargarjunakonda Museum to showcase the traditional and ancients skills of artisans in making this type of art and sculpture. Artisans in Durgi town still follow the same tradition and technique in creating these artworks that they learned from their ancestors.
Many arts and craft stores in AP has a wide collection of idols made up of Durgi Stone and so purchasers interested in these attractive art pieces can place order appropriately to take home these works.