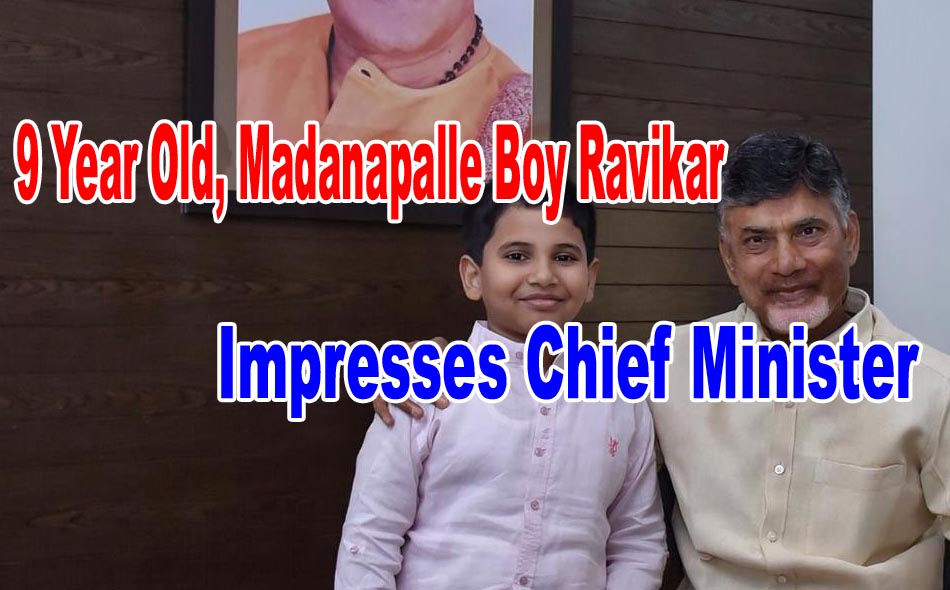 Chief Minister N.Chandrababu Naidu was impressed by Master Ravikar Reddy, a little boy from Madanapalle, who had the rarest opportunity for a civilian, to visit a forward post on India-Pakistan border and see from close quarters, BSF jawans who guard the border day and night. Ravikar Reddy wrote a letter to BSF Director General KK Sharma expressing his desire to visit the forward post of the BSF on the Indo-Pak border.
Seeing the patriotic spirit and interest in defence services of the country, BSF DG give Ravikar, who is in V standard, an opportunity to visit the forward post. He was allowed to visit Murar Border post from March 21 to 26. When the DG asked why he had written the letter, Ravikar told him that he came to know about how BSF jawans guard the borders day and night without rest or complaint. He said he always wanted to see them and so he wrote the letter.
When the little kid had narrated it all to Chandrababu Naidu at his residence in Undavalli on Sunday, CM was very impressed and engaged the kid in conversation. During the course of his interaction, the Chief Minister found Ravikar to be up-to-date with current affairs. Praising the kid's parents Narasimha Reddy and Indira for the child's upbringing, he said the government will strive to improve knowledge inputs for the children's development.
When Ravikar expressed his desire to speak in Mahanadu, Naidu asked the child why does he want to do that. Ravikar explained that only a child can be able to communicate to another child properly. Impressed, Naidu agreed to let him speak in the next Mahanadu. On Ravikar's request, he was sent to Polavaram Project site along with his parents to see the ongoing project work.