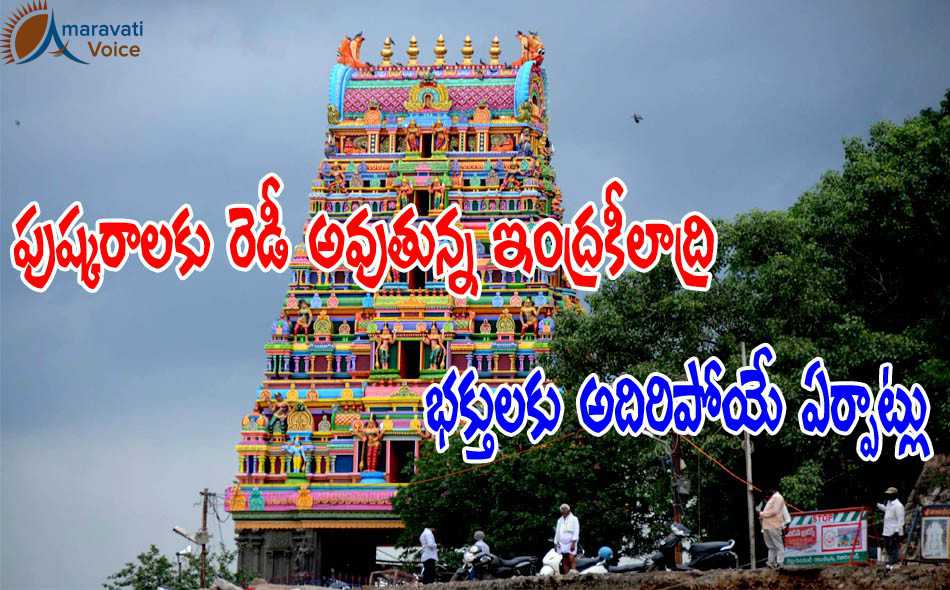 Elaborate arrangements are made in Sri Durga Malleswara Swamy Varla Devasthanam, atop Indrakeeladri hill for the upcoming Krishna Pushkarams. Temple authorities are making sure that pilgrims visiting the temple during pushkarams will have a great and safe experience in the temple.
Lakhs of devotees are expected to the goddess Kanaka Durga after taking a holy dip in the River Krishna during the Pushkarams. The temple authorities have already evacuated the shops, the queue line complex, administrative offices and other structures on the Indrakeeladri Hill. In this regard, the Annadana Satram was shifted to Sringeri Mutt on Arjun Street and the tonsure hall to Arundel Satram. Authorities are also not taking any risky decisions to chalk out grandiose plans.
Widening of the ghat road is under progress and will be complete by the month end. To create pleasant ambiance for the pilgrims the pathway leading to the Indrakeeladri hill was being developed with greenery.
Extensive drinking water supply and medical aided services will be made available to lakhs of devotees expected to seek blessings of Kanakadurga.
20 lakh devotees are expected to visit the goddess in these 12 days. Authorities are preparing about 60 lakh laddus for the river fete.