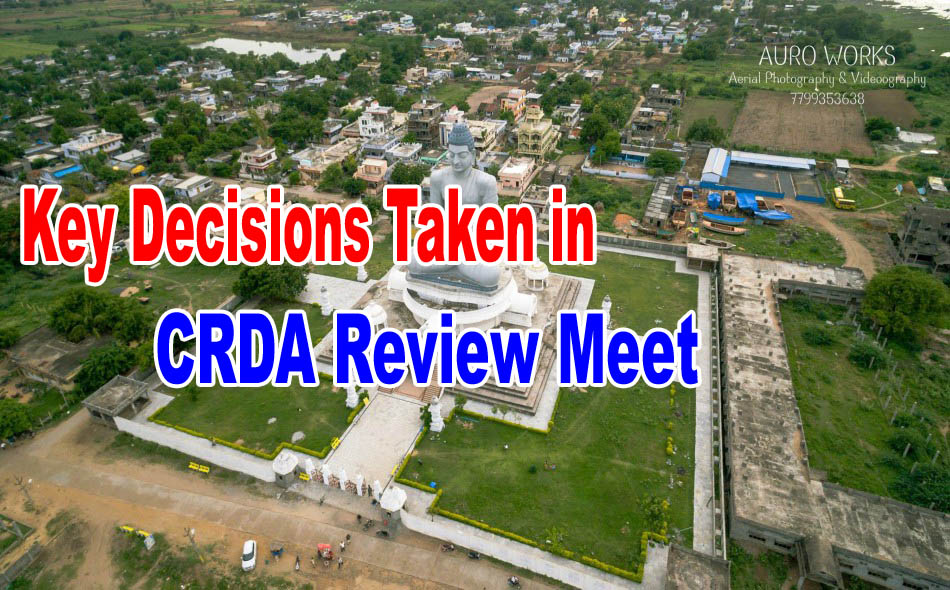 The Chief Minister reviewed the projects in the capital region at the review meeting with CRDA in the Secretariat. Projects with an approximate cost of ₹13,000 crore are being grounded in the next two weeks. Some projects are a part of Land Pooling Scheme (LPS) infrastructure, some are government complexes and some are trunk infrastructure.
Hybrid Annuity Model for LPS infrastructure
The tenders for the LPS infrastructure will be released next week, under the Hybrid Annuity Model (HAM). A popular model for most NHAI contracts, HAM will undergo 3 major modifications in its implementation in the state's projects.
Based on market research and feedback given by bankers and developers through workshops, the final contours of the HAM model will be made to suit the LPS infrastructure projects.
The concession period will be 13 years instead of 17, with 3 years of construction and 10 years of operation and maintenance (O&M). Secondly, the share of the project cost will be 49% by the state government, and 51% by developers (as opposed 40% and 60%). The government will have an increased share, because the projects will not be making as much as revenue as NHAI projects. Lastly, the state government will give guarantees to provide for any shortfall in repayment of annuity.
5 major projects have been finalised, and their tenders are ready to reach the market on October 11. The total estimated cost of the 5 projects is ₹10,000 crore:
• Zone 4 of 1,360 acres with an estimated cost of ₹817 crore,
• Zone 5 of 5,174 acres with an estimated cost of ₹2,383 crore,
• Zone 9 of 6,902 acres with an estimated cost of ₹3,714 crore,
• Zone 12 of 7,838 acres with an estimated cost of ₹2,102 crore and
• Zone 12A of 3,860 acres with an estimated cost of ₹1,498 crore
StadiArena
StadiArena Amaravati Limited presented their proposal to create a state-of-the-art sports facility, to promote an international standard of sporting and leisure facilities.
"Andhra Pradesh will be able to host national and international sporting events, and the youth of our state will be encouraged to undergo training of high standard", said the Chief Minister.
fficials said that 20 acres of land close to the river have been identified near the government complexes. The facilities include a multi-use sports pitch, and spaces and amenities for tennis, basketball, volleyball, yoga, table tennis, swimming, badminton and dance. There will also be facilities for medical science and rehabilitation.
The project will be executed in 2 phases. Phase 1 (at a cost of 19.89 million pounds) will be the establishment of conference and exhibition centres, with StadiArena sports area, events park, members club and disaster recovery centre. Phase 2 (at a cost of 16 million pounds) will include the construction of hotels, self-catered accommodation, retail and leisure facilities.
The sports area will have a capacity of 10,000 people, and a 4,000 capacity multi-use arena.
F1H20 Water Festival – Amaravati 2018
Officials of UIM Powerboat Racing will be organizing the F1H20 Water Festival in Amaravati in 2018. They presented their detailed proposal of the events and races, which will attract international racing teams, and enthusiasts of water sports.
The event will span across 15 days with a wide variety of events, making it an entire dedicated month including celebrations and preparations.
The Chief Minister was eager to take this project forward, and signed an MoU initiating the partnership between UIM Powerboat Racing and the Government of Andhra Pradesh.
Boyapati Srinu
Noted film director Boyapati Srinu presented his ideas to create a structure dedicated to Lord Venkateshwara. The Chief Minister appreciated his efforts and said, "The largest project in the country, the interlinking of rivers Krishna and Godavari, is completed within a year's time only because of the blessings of Lord Balaji".
He asked Mr. Srinu to follow up the project with officials from the irrigation and infrastructure departments.