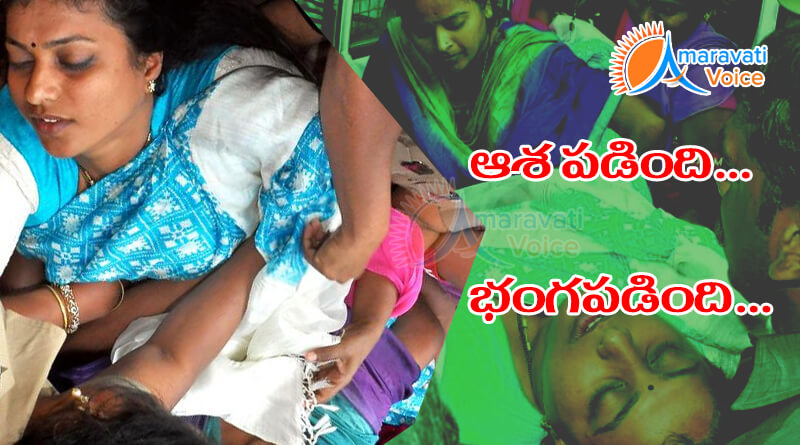 YSRCP firebrand, MLA Roja who used to be agressive in assembly has been planned to necked out for an year from assembly today. MLA Roja who was given nearly four chances to get back from suspension by providing proper explanation before the privilige commity. It is known that roja was suspended for an year from assembly by the speekar when she used un-parlamentary language and abused chief minister Nara chandhra babu naidu along with ministers.
The lady MLA even previously showed her aggressiveness and head weight during assembly sessions,targeting her fellow members who belongs to ruling party. She was warned twice and twice by the honerable chair but Roja denied to agree their words which later resulted in her suspension.
After being suspended Roja approached high court where she faced her first failure and then she moved up towards Supreme court where the court recomemended high court to listen up Roja and assure her justice. The court even though gave an excuse to Roja but left the final decision to Assembly, which made the lady Mla to expose her agressiveness again trying to attend assembly sessions which the assembly opposed.
At last providing Roja a chance the chair asked her to give an explanation to Privilage Commity said the chair. But Roja failed more than thrice and her negligence towards responisibility made chair anger and atlast gave a statement to neck her out if they wish. Atlast today Roja was alone shown and stood guilty where the other members who attended before previlage committe including Kodali Nani were excused. This made the Roja to get depressed and her last scope and chance to attend Assembly were lost just with her own hands.
For More Details to know how Privilege committee responded and stated about the issue of Roja just click the video below.
{youtube}Zt8ZOCWCwVU{/youtube}