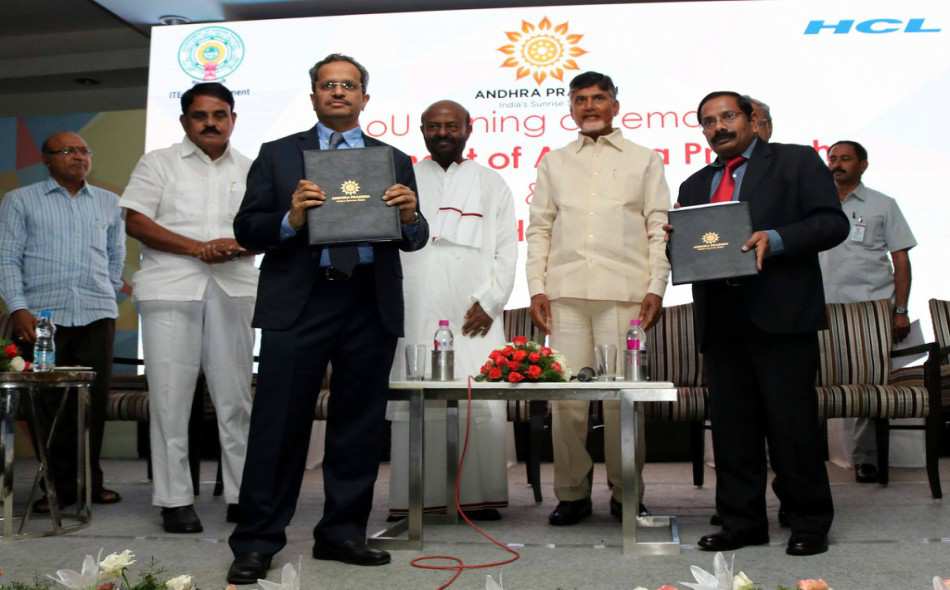 The MoU the AP government has inked with HCL on Thursday, an IT major with an investment of Rs.500 crore in IT and IT-enabled services with a job potential of 5000 is expected to give a fillip to the IT industry in the successor State. It is for the first time the government could attract such a major initiative in the IT sector after the division. HCL will setup IT and incubation centres in Vijayawada and Amaravati in line with the spirit of the MoU. HCL promised for a flexi working conditions for women and walk to Work environment. As part of the MoU, HCL will invest Rs.500 crore in 10 years in the project spread over 27.86 acres to be allotted by the government. Speaking on the occasion Chief Minister N Chandrababu Naidu said that Vijayawada is best place for creative people and sought cooperation of HCL to make AP a knowledge hub. He said the HCL would emerge as a trendsetter in promoting IT in AP.
In line with the government's efforts for enhancing employment opportunities in the State, the company is committed to hire 5,000 local residents. The project will be implemented in two phases. In Phase -1 HCL plans to invest Rs 300 crore providing employment to 3000 people. Likewise, in the next phase likely to commence in 2022 with an investment of Rs 200 crore will provide an additional employment to 2000 people. Another novel feature of the MoU is that it plans to leverage a gender equal work force. In addition to this, the organisation has promised to create flexible working conditions for women; retain talent through career growth and provide higher educational opportunities for them. In tune with the Chief Minister's vision, HCL volunteered to promote the walk to work environment in the capital so as to improve productivity, facilitate work-life balance for employees and thereby improve retention levels. HCL proposes to develop its first centre at Kesarapalle Village in Gannavaram Mandal of Krishna District in a total area of 17.86 acres. The second center will come up in 10 acres in Ainavulu village of Amaravati. The project also envisages setting up a campus of the IT & ITES City Project.
Besides it is also proposed to develop infrastructure such as engineering services by setting up of R&D labs, IT Services, Skill Development Centre and establish residential hostels. HCL will begin construction of the Phase-1 center in early May, 2017 and start training programs by July 2017. The IT giant has promised to operationalise the IT Centre and Skill Development Centre, involving 500 odd professionals, by August 2018. As the investment in Phase l is more than Rs 250 Crore, this project qualifies as a megaproject under the Information Technology Policy 2014-20. "I am very happy to facilitate this signing of MoU. We look forward for a wonderful partner ship with HCL and we promise to extend all possible support by the government," said K. Vijayanand, Secretary IT Government of Andhra Pradesh.
Commenting on the occasion Shiv Nadar, Founder & Chairman — HCL & Shiv Nadar Foundation said." HCL has always been at the forefront of bringing new opportunities to the country in general and the State in particular.
"I am always charmed by Mr Naidu's commitment. Wanted to set up something in the interior Andhra as most of our employees in Chennai office are from AP. Our main idea is to encourage women who are well educated in the Southern part. That's how this idea came up. He said HCL is ready to promote creative work force for global companies. The company has largest R&D wing with 6000 people.