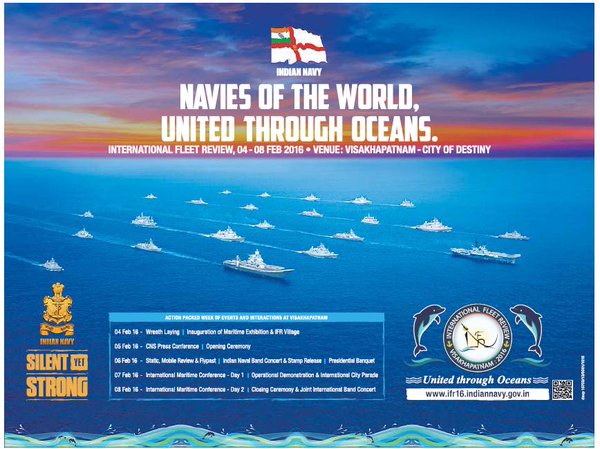 Why is a Fleet Review Conducted
The official theme of the IFR is "United through Oceans"
A Fleet Review is an assembly of ships at a pre-designated place for the purpose of playing respects to the sovereign of a nation and to display their commitment to him. In turn, the sovereign by reviewing the ships reaffirms his faith in the fleet and its ability to defined the nations maritime interests.
Independent India has witnessed 10 Fleet Reviews till date, with last one held on December 20, 2011. This includes the first ever international Fleet Review in 2001 at Mumbai. Earlier in February 2006, VIzag hosted the Presidents Fleet Review. Ten years later, the ENC is hosting the International Fleet Review (IFR), the 11th review is the second IFR hosted by India.
Who is Participating ?
90 Ships and 60 Aircrafts, including 25 foreign Naval Ships
52 Nations have confirmed participation. Of this, 31 nations are sending only delegations. The remaining 21 nations will have both ships and delegations
How are they doing it ?
15,000 police personnel including special protection group, national security guards, greyhounds and octopus teams deployed in the city
Nearly 10,000 government staff from various departments are involved in making the arrangements
Over Rs.100 crore being spent including Rs.85 crore by GVMC alone
18 check posts, including six in the city
300 CCTV cameras fitted
85 RTC Buses to ply exclusively for ferrying people to the venues
250 VIP four-wheelers including luxury cars for VVIPs
17 film screens to live telecast the parade
2468 sanitation workers working round the clock to keep city clean
Around 600 mechanized boats and 300 motor boats being used to ferry the navy personnel from ships anchored in the sea to the sea shore
Schedule:
February 4th:
Wreath Laying by Andhra Pradesh Chief Minister N Chandrababu Naidu at 4.20 PM
Venue: 1971 War Memorial, off RK Beach Road.
Maritime Exhibition and IFR Village inauguration by Chief Minister N Chandrababu Naidu at 5 Pm
Venue: Andhra University Grounds
February 5th:
Opening Ceremony by Andhra Pradesh Governor ESL Narasimhan and AP Chief Minister
Venue: INS Satavahana Stadium
February 6th:
Fleet Review by President Pranab Mukharjee from 9AM to 11.45 AM. Prime Minister Narendra Modi is excepted to accompany
Venue: Off Vizag Harbour
Naval band Concert by Indian Navy at 5.20 Pm
Venue: Samudrika Naval Auditorium
Band Concert by Foreign Navy Bands from 4.30PM to 6.00PM
Venue: AU Engineering Ground
February 7th:
International Maritime Conference from 9 AM
Venue: Taj Gateway - Godavari Hall
International City Parade and Operation
Demonstration to be attended by Prime Minster Narendra Modi and Chief Minister Chandrababu Naidu from 5.30 PM to 7.00 Pm
Venue: Off RK Beach
Band Concern by Foreign Navy Bands
Starts: 10.30 - 12.00
Venue: VUDA Park
February 8th:
Closing Ceremony at 7.00 PM
Venue: Naval Institute Attendance