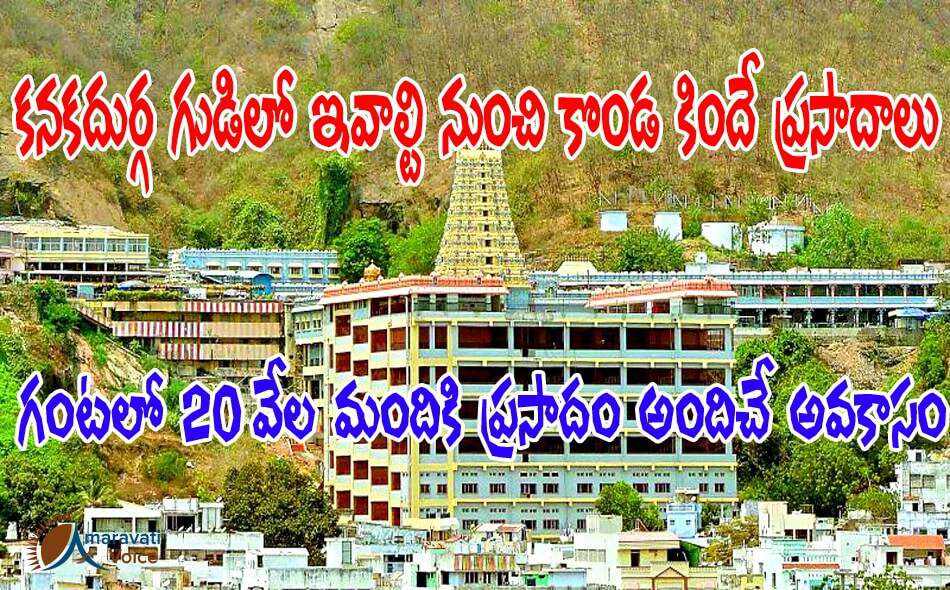 As per the master plan, the existing structures of Indrakkeladri, including EO office, Annadana Mandapam and Prasadam counters are shifted to Mallikharjuna Maha Mandapam, below the hill. The authorities are planning to make use of Mallikharjuna Maha Mandapam constructed on the lines of Tirumala queue complex for the coming Krishna Pushkaralu. The temple authorities are planning to develop a circulating area around the temple on the lines of 'Mada Veedhi' in Tirumala. In this regard, the authorities have demolished the queue line complex, shops and unnecessary structures on the Indrakeeladri Hill.
Mallikharjuna Maha Mandapam is now used for many activities. Below are the facilities provided at Maha Mandapam
Prasadam Counter: Prasadam counters are shifted to Ground Floor of Mallikharjuna Maha Mandapam. There are a total of 9 counters and from each counter, around 3000 people can take the prasadam in queue line
Information Center: An information center is also placed in the Ground Floor of Mallikharjuna Maha Mandapam
Rest Rooms: Second and Third Floors are given to the rest rooms for the devotees, who will have a sleep at nights.
Kanakadurga Prabha Office: This is placed on the Fourth Floor
19 Pooja Stalls: Around 19 stalls which sell Pooja Material are placed on the Fifth Floor. Very soon a Library also will be placed here.
Special Poojas: Special Poojas like Laksha Kukumaarchana, Astottaram are held in the Sixth Floor
Reception and VIP Longue: Reception and VIP Longue are placed on the Seventh Floor of Mallikharjuna Maha Mandapam. State Bank ATM, Police Out post, CC Camera Control Unit are also placed in this floor.