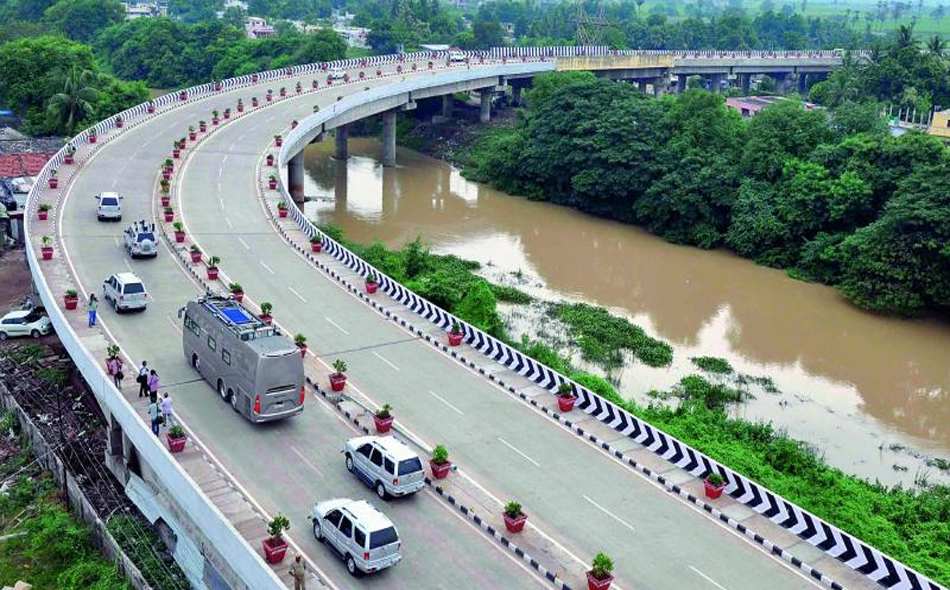 Inner Ring Road in Vijayawada, which was built by CRDA, the erst while VGTM-UDA at a cost of Rs.119 crore from Milk Project to Ramavarappadu Ring Road to ease traffic in the city will be extended to Kesarapalli Junction in Gamavaram mandal. The decision was taken by the CRDA as the traffic problem at Ramawarappadu Ring Road junction has increased since the inauguration of IRR in July 2016 prior to Krishna Pushkaralu.
In the first phase, the CRDA built IRR from Milk Project junction to Gunadala and Ramavappadu Ring Road junction, in the second phase, the road Will be extended from Gunadala railway junction to Kesarapalli village in Gannavaram mandal covering 12 km. Chief Minister Nara Chandrababu Naidu after inauguration of IRR before Krishna Pushkarau in July 2016 inspected the IRR and suggested for extension of IRR up to Kesarapalli. He suggested to the officials to study the feasibility of extending the IRR to prevent traffic problem at Ramavarappadu Ring Road junction.
Ramavarappadu Ring Road area became hazardous zone since vehicular traffic increased as well as Some engineering defects in the construction of flyover bridge and its approach road to the national highway. Vehicles travelling between Hyderabad-Eluru-Vizag are being diverted via IRR and Ramawarappadu Ring Road junction. Similarly, Vehicles travelling between Vizag-Vijayawada-Hyderabad are passing via Ramavappadu Ring Road junction causing traffic congestion in the peak hours.
Vehicles passing from Hyderabad to Chennai also passing via IRR and reaching Ramavappadu Ring Road junction, Benz Circle and moving towards Kanaka Durga varadhi to reach Guntur, Chennai. Traffic in and around the city has increased manifold since Vijayawada became the capital of Andhra Pradesh.
In View of reducing traffic to some extent at Ramavarappadu Ring Road Junction, Benz Circle and Krishna Lanka, the CRDA, now has decided to extend the IRR from Gunadala to Kesariapalli Junction without touching Ramavarappadu Ring Road junction. Consequently, vehicles passing from Hyderabad to Eluru, Vizag and Kolkata can directly pass from Gunadala to Kesarapalli and reach Gannavaram without entering Ramavarappadu Ring Road junction. The project cost is estimated at Rs.100 crore.
Every day, thousands of vehicles pass from Hyderabad towards Vizag and Kolkata via Ramawarappadu Ring Road junction. With the construction of 12km four-lane road from Gunadala to Kesaraplli vehicles pass towards Gannavaram can directly go there without crossing the flyover and reaching Ramavarappadu Ring Roadjunction.
A private company will taken up asurvey and will prepare Detailed Project Report (DPR) on the construction of a four-lane road from Gunadala to Kesarapalli.