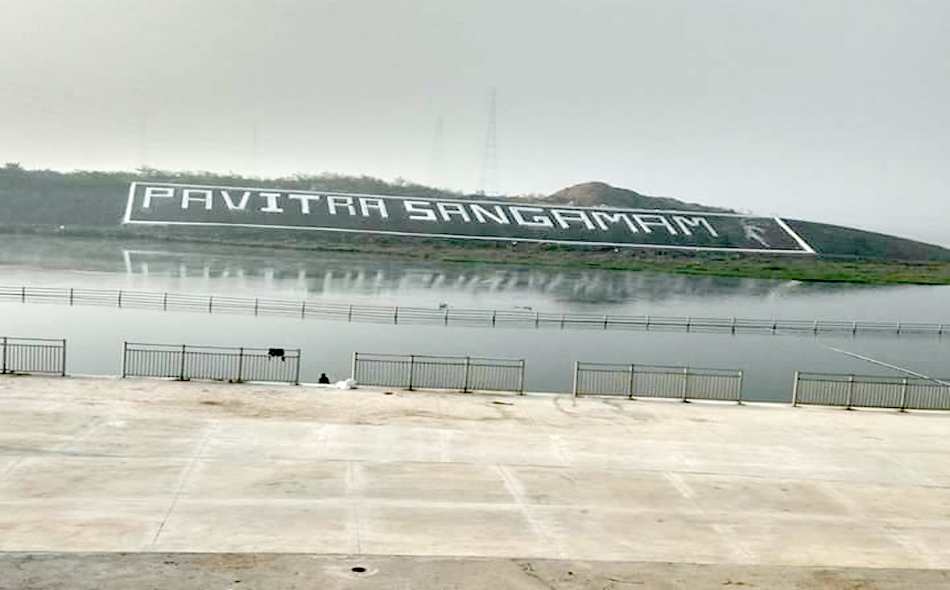 Krishna district administration has planned for construction of a cultural centre at Pavitra Sangamam, a confluence of Krishna and Godavari rivers, at Ibrahimpatnam. Ever since Pattiseema project was completed, the Ibrahimpatnam area where the Godavari meets Krishna has become a sacred place and thousands of believers take a holy dip.
The government had striven hard to finish the confluence before the Krishna Pushkaralu. Many spiritual, music, dance and other programmes are being conducted at the place since the convergence of two great rivers. Recently, state government hosted National Women Parliament at the spot. The Pavitra Sangamam came into limelight not only because of its religious sacredness but also owning to the kind of programmes being conducted here since the government achieved the distinction of merging two rivers.
The Pavitra Sangamam also gained significance as the government announced its plan to develop the Krishna riverfront. As part of the plan, many structures will be coming up on the riverfront, Several internationally acclaimed brands of eateries are also in the race for establishing their business outlets.
Meanwhile, the District Collector, Babu A, accompanied by violin maestro L.Subrahmanyam inspected to select suitable site at Ibrahimpatnam. Speaking on the occasion, Babu A said that the area got recognition because of Pavitra Sangamam. The construction of cultural centre would be like icing on the cake. He informed ace musician Subrahmanyam that many companies have come forward to set up music and dance centres at the spot as part of river front development perceived by the State government. He assured all possible help to Subrahmanyam to establish cultural centre.
Decks had already been cleared for the setting up of Amaravati American Institute of Medical Sciences and Tagore Cultural Centre.