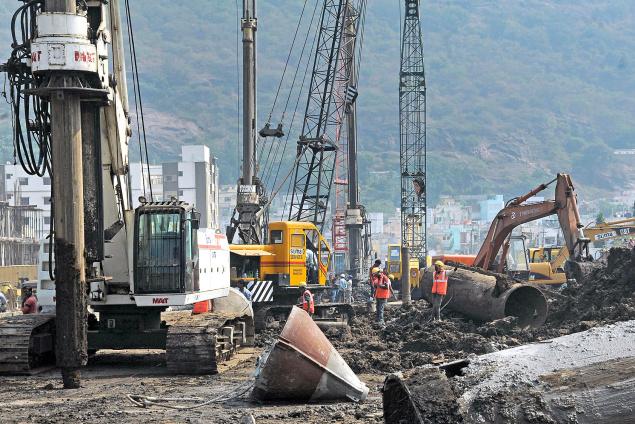 Kanaka Durga flyover works are going on in brisk pace. All the works pertaining to flyover construction are taken up on a war-footing basis. AP Transco officials have shifted 215 electrical poles and another 96 poles would be shifted in a week. Pipeline works at a stretch of 650 meters were completed against 700 meters, balance works would be completed in two weeks.
The most important 132 KV towers are removed by Transco in 44 days, which is a biggest achievement. There are three 132 KV towers and these are stretched from Durga temple to "Seetamma Vaari Paadalu". They have also installed five new towers successfully. A total of 300 Transco employees has participated in this operation, 24/7 and completed this successfully.
The entire distance from Ratham Centre to Durga Ghat on canal road has dug up and barred to public movement owing to the flyover works. The railing part of the canal from Prakasam Barrage has been dismantled to facilitate the works.
Soma Constructions, has taken up the project and it is expected to complete before Krishna Pushkaram, by June 2016. The total cost of the project is estimated at Rs. 447.8 crore. The flyover is going to be six-lane road that will connect NH5 and NH9 and it will have a four-lane road beneath it. Union Surface Transport Minister Nitin Gadkari laid foundation stone for the Kanaka Durga flyover on December 5th 2015.