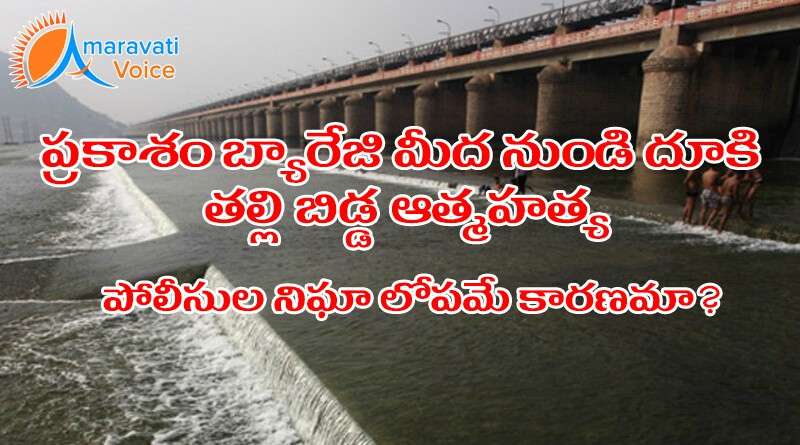 Parakasam barrage, the most prettiest and visual wonder of Vijayawada , which stood in history as one of the best places of Vijayawada now became a sensation with suicide of a lady. As per the police and witness a woman jumped off from Prakasam Barrage with a kid in her hand this morning.

A auto driver, who live witnessed the incident took this to eyes of police who are under survey lines of Prakasam Barrage. As soon as the police came to know of this they started an immediate search in the waters of river Krishna. The police hasn't found the lady or kid but saw the bag which the lady carried floating on water.

The police are trying their level best to find the bodies, as the details of the lady and baby remained mysterious. They are using huge nets as a part of their search but hasn't found any clues or suspects. The police now started to move towards the float of water and were making all possible ways to find the bodies and declared that they were dead as it is impossible to live after getting dipped into waters as the depth was too high and even the floating.

To the surprise till now no one has come forward complaining of missing of child and mother.
It is known that a woman committed suicide few month back on the same barrage but was saved by an auto driver whose identity wasn't known to anyone but this time unfortunately no one saved or observed them. Many times police were assisted by public to take necessary steps to avoid the repetition of these incidents but the police department left those words in vain which resulted in loss of two lives today.
{youtube}Tx6CAOUnRTg|500|250|1{/youtube}