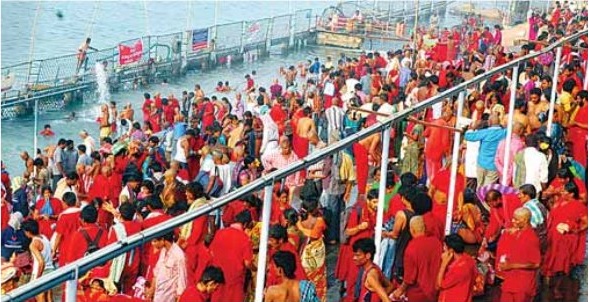 Sri Durga Malleswara Swamy Varla Devasthanam atop Indrakeeladri, witnessed thousands of devotees in red robes as the relinquishment of 21-day or 41-day 'Bhavani Deeksha' began yesterday. The Indrakeeladri Hill as well as the surroundings is filled up with devotees of all age groups. Devotees from far off places visited the temple early in the morning, by buses, cars, autos, lorries.
The devotees first made the 'Giripradakshina' and had a holy dip in the river Krishna and then had 'darshan' of the Goddess.
It was then time to put coconuts and other puja material contained in the 'Irumudis', into the 'homagundam' set up at 'Mallikarjuna mandapam' down the hill after 'Agnipratishtapana' was done. A large number of devotees were lined up in queues on the Canal Road waiting for their turn to have darshan of the Goddess on the auspicious occasion. The Bhavani devotees thronged the 'homagundam' to perform rituals associated with Deeksha Viramana.
Approximately 8 lakh devotees are expected to visit the goddess for relinquishment of the deeksha. The rush of devotees is expected to reach its peak on Friday and Saturday. The temple authorities have decided to open darshan for the devotees from 3 a.m. to 11 p.m.

Free buses were arranged from railway station and bus station for the convenience of the devotees. Special medical camps were arranged on the hill.