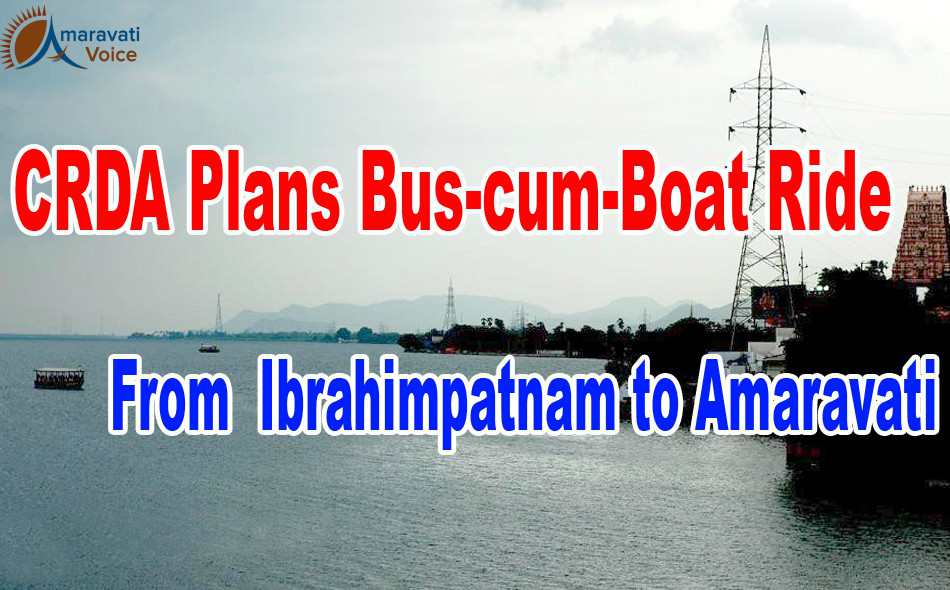 The State capital Amaravati will have bus-cum-boat vehicle facility soon. Capital Region Development Authority (CRDA) officials have finalised plans to introduce the bus-cum-boats from Ibrahimpatnam to Amaravati on River Krishna. The CRDA officials are drawing up plans to replicate the two-way mode transport facility which was launched in Goa recently.
According to sources, the new facility will be available in two months for both tourists as well as public. Ibrahimpatnam in Krishna district has become an important tourist spot due to Pavitra Sangamam (confluence of Krishna-Godavari rivers). Besides, hundreds of people of both Krishna and Guntur district use boat services from ferry point to cross the river to reach villages in Amaravati area.
People of several villages in Tulluru, Amaravati, Tadepalli and Mangalagiri mandals are using the boat facility as public transport to cross Krishna river. Daily labour and agriculture Workers cross Krishna river through mechanised boats at Ibrahimpatnam. The people have been crossing River Krishna at the particular point for several decades.
This water way is immensely useful to reach villages in Amaravati capital region for the people in West Krishna and some parts of Khamam district. The way reduced journey time from one-and-a-half hour to 30 minutes and also distance abnormally. The traffic by boats has increased manifold from Ibrahimpatnam ferry point since villages on the other side of river in Guntur district were selected for capital city.
Currently, private boats are being operated to meet the demand. The CRDA has explained its plan to Chief Minister N Chandrababu Naidu for a formal permission from him. CRIDA Commissioner Ch.Sridhar, said that the special vehicle runs as a bus while on road and automatically turns into a boat when it enters water. This bus-cum-boat can carry about 35 passengers.
CRDA Secretary Ajay Jain said that the employees and tourists who would be on a visit from Hyderabad to Vijayawada can cross River Krishna at Imbrahimpatnam to reach Amaravati.
The proposal assumes significance as Ibrahimpatnam is also very near to Kondapalli Fort which is one of the popularand historical tourist destinations in the area.