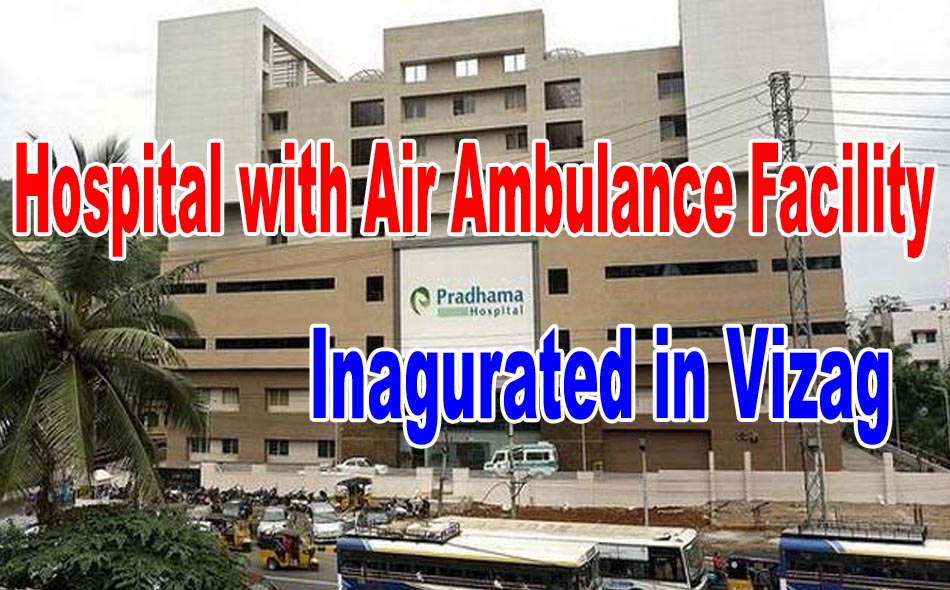 Chief Minister Chandrababu Naidu, Inaugurated Pradhama Hospital, a multi-speciality hospital introduced by a group of 60 doctors from Visakhapatnam to serve the less privileged families and other sections of society seeking healthcare assistance.
An air ambulance with roof-top helipad and add-on facilities like wellness centres are in the offing at a 10-floor corporate hospital being opened with an investment of Rs. 220 crore in the heart of the city abutting the National Highway by a team of local doctors.
After obtaining clearance from the Civil Aviation Ministry, the hospital with bed strength of 600, which the management says is the largest so far in the private sector in Andhra Pradesh, is awaiting a 'no objection certificate' from the Fire Department and clearances from other statutory agencies.
Air ambulance will be of great help in saving lives of the victims of industrial accidents, those injured in police-Maoist encounters and major road accidents in evacuating the patients within a few minutes to the hospital for expert care.
When major accidents occurred at the Visakhapatnam Steel Plant and the HPCL Visakh Refinery, those who suffered serious burns had to be shifted to Mumbai by engaging an air ambulance paying huge amount. Pradhama Hospital will obtain an air ambulance costing Rs. 3 crore in about six months. The building has a built-up area of six lakh sq.ft. with basement parking for 600 cars near Venkojipalem Junction.
It has all super-specialities with 13 stretcher lifts with a carrying capacity of 20 to 30 persons. Three hundred junior doctors will offer 24x7 service with separate burns ward, cardiac, cath lab, blood bank and other facilities.