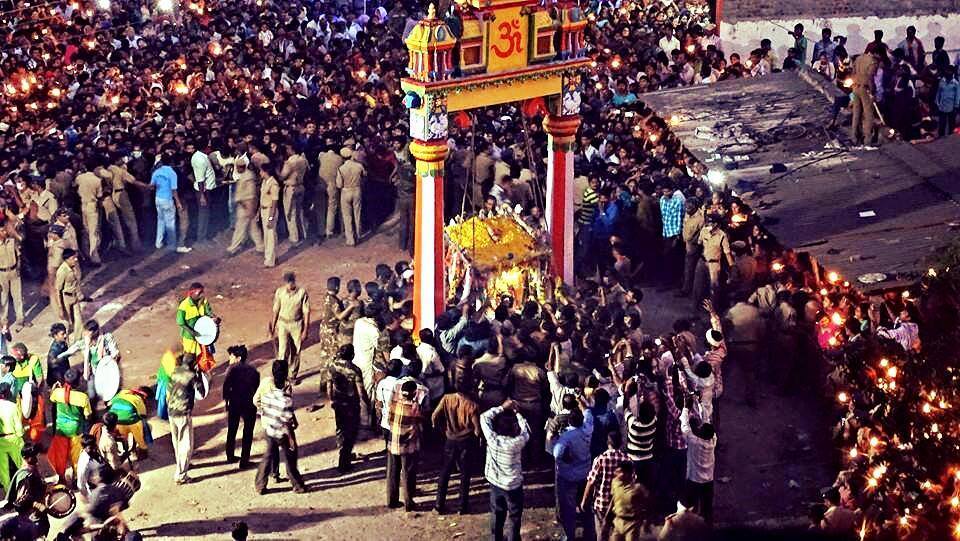 15-day "Veeramma Tirunala" of Veerammathalli will commence from today in Vuyyuru, Krishna District. The festival starts on "Bheeshma Ekadasi" and go on for 15 days. Lakhs of devotees will participate in the festival and take the blessings of the goddess.
The Goddess sets out from her in-laws' house at 8.30 pm on Thursday. The villagers welcome the Goddess with lamps and the next day the goddess enters the temple. On the last day teppotsavam takes place, where the goddess will have a bath at Krishna River near Thotavalluru and return to her in-laws' place. The Sidibandi, celebrated on the 11th day, is the most important of all rituals. As part of it, the most eligible Dalit bachelor would be made to do circumambulate the temple. The thousands of devotees throw bananas at the youth, seated in a basket.
Story of Veerammathalli:

Veerammatalli was born to Boddu Parasuramayya and Parvatamma of Peda Kadiyam in Eluru. Veerammatalli's name is Veerasivamma. She married Chintayya of Vuyyuru when she was eight-years-old. Upon attaining puberty she was sent to her in-laws place to have a family life. But, the village Karanam Subbayya set his sight on her. He along with his brother-in-law hatched a conspiracy to kill Chintayya and his brother as his plans to make her succumb to his desire proved futile. He along with his brother-in-law poisoned Chintayya to death when Chintayya and his brother went to Mustabada near Gannavaram to graze sheep. Pained at her husband's death, she cursed Subbayya and committed Sati. The then Zamindar of Vuyyur and representative of Nawab Zinna Saheb got a temple built for her. The festival is celebrated since then annually.