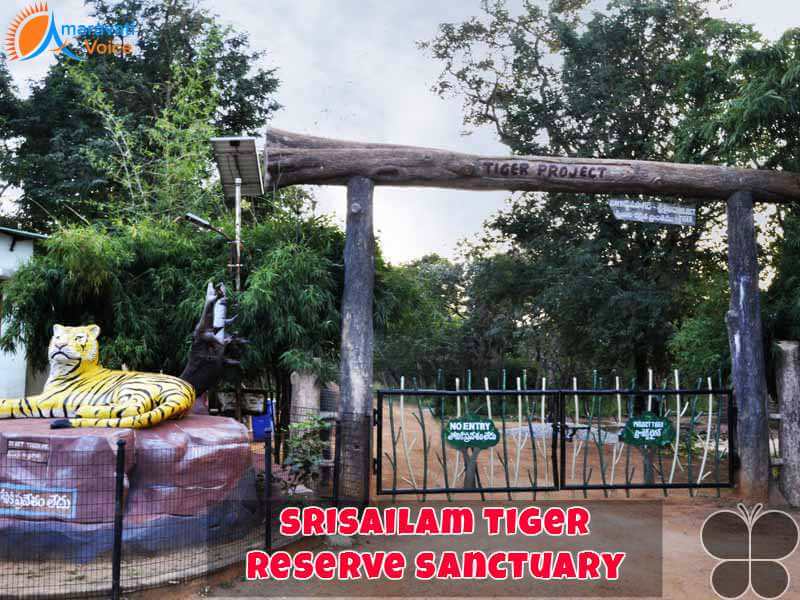 Summary: Some people have great interest towards wild life exploration and those visiting Guntur with this interest can get the opportunity at Srisailam Wildlife Sanctuary.
The actual name of Srisailam Wildlife Sanctuary is Nagarjunasagar-Srisailam Tiger Reserve. This wildlife sanctuary is spread over 5 districts in the state of AP and they are Mahaboobnagar, Kurnool, Nalgonda, Guntur and Prakasam Districts. The greatness associated with this sanctuary is that the great river Krishna flows through this sanctuary. To ensure irrigation within the park premises there are many reservoirs within the sanctuary and there are also temples inside that are visited by tourists. The sanctuary is located in a hilly area and it has many deep valleys and high cliffs. The sanctuary has an astonishing landscape and this is a must visit spot for people, who wish to explore places that are close to the nature during their trip in the state of AP.
There are also plateaus in this sanctuary and they suffer from water scarcity during winter months and the sanctuary is known for its rich biodiversity. There is a wide range of shrubs and trees in this sanctuary and there is also an extensive wide life in this sanctuary. This is the ideal spot to visit for bird watchers as well. The reason for this is that they can find a wide variety of birds here. Besides reservoirs, there are also water falls in this sanctuary to add to the beauty and flora.
Ancient History:
This sanctuary has one of the oldest temples for Lord Mallikarjuna and there are also the ruins of the Nagarjuna School that was known to have been run by the Buddhist Scholar Nagarjunacharya, which was overlooked after his period.
Modern history:
In the year 1983, the sanctuary was brought under the protection of Project Tiger and it also gained recognition in the year 1978. Before the 1993, this sanctuary was known as Rajiv Gandhi Wildlife Sanctuary and was renamed after this year.
Before Indian independence, the region was used as a hunting reserve and it is known that the guests and the royal families used this sanctuary as a playground for hunting. Even though, in the year 1983 before the beginning of Tiger Protection project, there were 40 tigers in the reserve and now the number has reached more than 94. This is stated to be an excellent increase by tiger enthusiasts.
What is the best time to visit?
This sanctuary has a very hot climate and summers are highly hot and records state that the summer temperature can reach 40 degree Celsius. However, winter months have a pleasant climate, which will not be too cold. During winter season, the minimum temperature can reach 10 degrees. This area relies on south west monsoon for rainfall and the best place to visit is from the month of March to June. The period ranging from mid-June to November is monsoon season. If you plan to visit during cold months, you can choose December to February.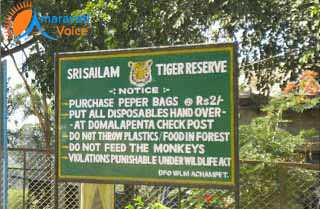 Wildlife:
As mentioned earlier there are different types of animals and birds living in this sanctuary and also it is known to be the home for a wide range of medicinal plants. A wide range of trees and plants that are used in herbal medicine are found in this sanctuary. The great thing about this sanctuary is that there are nearly 100 butterfly species and more than 50 species of insects and moths. Even, some new invertebrates were recently identified from this place. In addition to these living organisms, there are many reptilians like fan throated lizard, snakes, marsh crocodile, etc. There are also a wide range of mammals like wild dog, striped hyena, besides the Tiger's domain.
Accommodation:
There are about three forest guest houses with a capacity of 40 beds. These rooms are available at Nagarjunasagar, Mannanur and Srisailam. There is also another hotel called as Bhupal Hotel in Kurnool, which is located at Park Road in Kurnool. From this hotel, Hyderabad Shamshabad Airport is located at a distance of about 200 kms and the hotel is provided with all fundamental amenities. There are both rooms with and without air-conditioning for the guests to choose.
How to reach?
Road way is the best choice to visit this sanctuary. Srisailam is located at a distance of about 190 kms from Kurnool, while Guntur is located at a distance of about 220 kms. When you wish to visit this place from Chennai, you will have to travel 470kms, while from Mannanur it is 85 kms away.