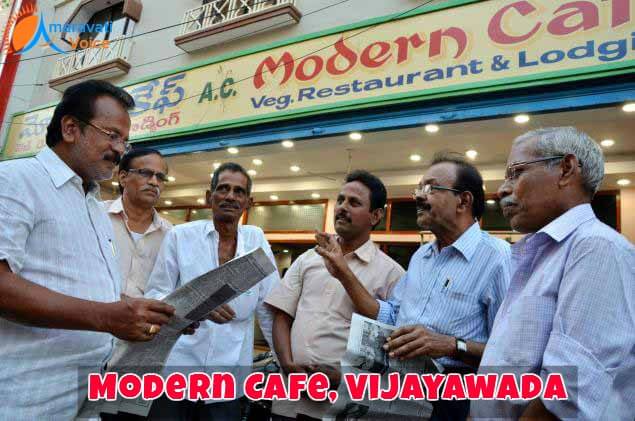 Summary: For those looking for an affordable stay at the busy place in Vijayawada, the Modern Cafe can be the ideal spot to choose.
Besant Road is popular in Vijayawada as the place for shopping. Besides quenching the thirst of shoppers, this road also has eateries to quench the hunger of shoppers. This road has a popular eatery called as Modern Cafe. Not just a vegetarian restaurant, it is a place for lodging as well.
Locals gather:
Besides offering mouth-watering dishes, this hotel is also turning out to be the place to gather in the evenings for politically interested locals. They gather in front of the hotel on a daily basis to talk about the political situation in the state and also they talk about other issues. One of the members in the group chatting outside the cafe states that he has been gathering in this place along with his friends from the year 1968. He states that no matter, it is raining or it is hot, they gather as a group to discuss the political situations.
A 78-year old individual says that their discussions will be very hot during election times and the group says that they generally discuss about election campaigns and prospects of the contestants during election times. Even, they state that during some days, the discussions have led to quarrel among them and when this happened, they just stop the discussions and leave the place, but have never failed to join the discussion on the following day.
Changes in Besant Road:
One of the group members has said that many things have changed in Besant Road and even the Modern Cafe got a new look after a renovation, but they never fail to gather and the group remains the same, except that they are aging. They also state that earlier they had wider space to walk in Besant Road, but now the road has turned out to be congested place with many automobiles, beggars and vendors.
About Modern Cafe:
Coming back to Modern Cafe, this is an affordable place to spend your vacation in Vijayawada. The hotel offers an economical accommodation with basic facilities. As there is an attached restaurant that offers tasty foods, you need not have to go in search for a hotel separately during your stay in this lodging facility. Some people say that this is the ultimate destination for vegans looking for tasty foods in Vijayawada, while some praise the affordability of the foods available in this restaurant.
Some people are interested towards this hotel every time they visit Vijayawada mainly because of its location. Yes, the café stands tall amidst shopping spots and Besant Road as mentioned earlier is the one-stop destination for all your shopping needs. Some regular visitors are satisfied about the ambience and customer service at Modern Café. Of course, for some people this hotel is their choice because of its affordability not only with respect to foods, but also with respect to accommodation.
If you wish to take a look at the people gathering every day before the hotel and wish to enjoy the tasty dishes, make sure to book your stay in Modern Café, during your next visit to Vijayawada.