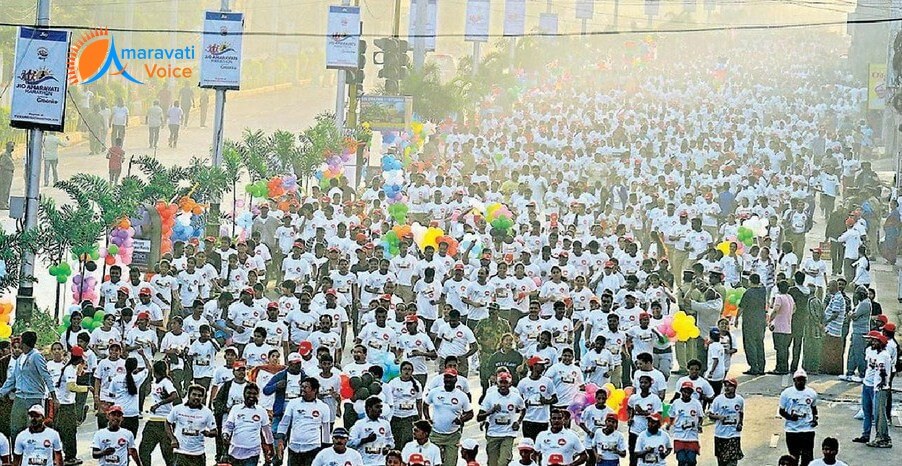 To promote the brand image of Amaravati, Andhra Pradesh capital, an NGO DEEP organised the marathon, which is also supported by the Andhra Pradesh government. Keeping away the cold weather and holiday, thousands of enthusiasts turned up for the Jio Amaravati. A total of 6500 citizens participated in the event.
Ethiopian athlete Mikiya Yemmath stood first, as he completed the marathon in one hour five minutes. While Kenya's Samuel Kamua came second in the 'Jio Amaravati'. He completed the marathon in one hour six minutes. State boy B Srinivas from Vizianagaram came in third in the 21-kms half-marathon run, he completed the marathon in one hour seven minutes. Chief Minister N Chandra Babu Naidu distributed the prizes to the winners.
Guntur Collector Kantilal Dante was complimented by Chief Minister, who completed the half-marathon in 2 hours 10 minutes.
Earlier, Police Commissioner Goutam Sawang flagged off the half-marathon.
Later, Union Minister for Urban Development M Venkaiah Naidu, AP Minister for Health and Family Welfare Dr K Srinivas, Parliament member K Srinivas, state Director General of Police J V Ramudu and international chess player K Hampi flagged off 10 kms and 5 kms runs.
A large number of youth, senior citizens and women arrived in the city from across the country to participate in the run.