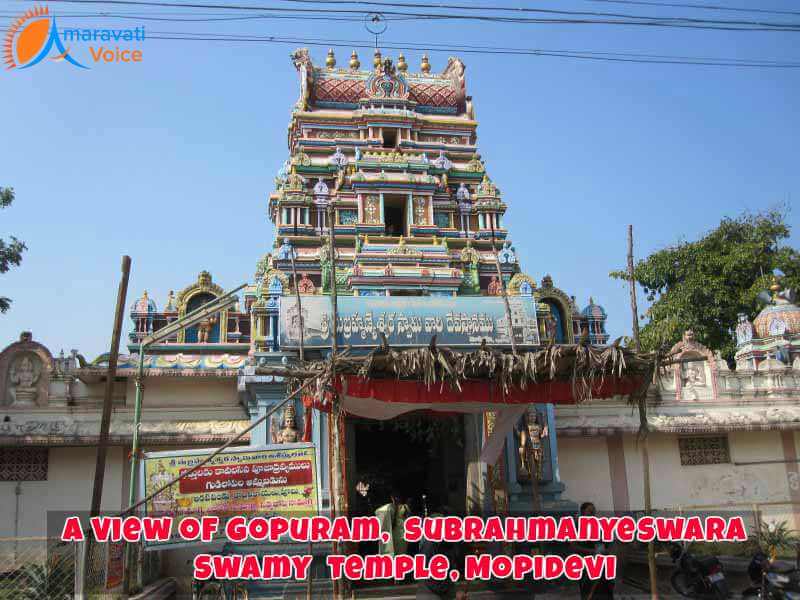 Summary: Those suffering from the sins of ragu and kethu planets are recommended to visit Subrahmanya Swamy Temple at a place called Mopidevi to get relieved of their sins.
Have you heard about Mopidevi earlier? It is nothing, but a small village and mandal located in the Krishna District of the state of AP. The special thing about this place is that the popular temple with sthala purana is located in this village and the temple is called as Subrahmanya Swamy Temple. This village is located at a distance of about 70-80 kms from the city of Vijayawada and about 30 kms from Machilipatnam.
About the temple:
It is stated that people suffering from any type of doshas associated with Raghu and kethu doshas and also those suffering from anapathya dosha and Sarpa dosha can nullify the negative effects caused by these doshas in their life by worshipping the lord in this temple.
Story behind the temple:
The four great rishis namely Sanatsujata, Sanatkumara, Sanakasa and Sankara were highly detached from worldly pleasures and self-awareness and so they even won't wear any dress to cover their body. Once these rishis came to Kailash to worship lord Shiva and during this time lord Subramanya, the younger son of Lord Shiva was sitting on the lap of his mother. He was a small boy and seeing the rishis without any dress, he giggled at them and his mother Goddess Parvathi scolded her son for his foolishness. Lord Subramanya then realized his mistake and he agreed to do a penance to get rid of the sin he has done to the rishis by giggling at them. Then, lord did the penance in the form of a snake for several years and at the end he successfully achieved self-cleaning from the foolishness he showed towards the rishis. The present Mopidevi village is known to be the place in which Lord Subramanya did his penance.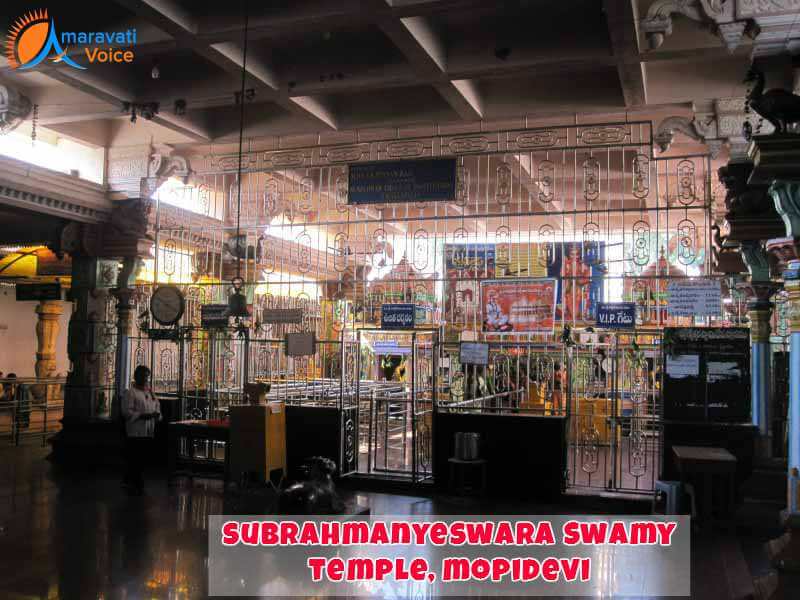 What do holy texts show?
When the Sage Agasthya once passed through the place in which the lord conducted penance, the sage felt the same and stated that when one heads to the eastern direction from that particular place, he can reach the temple of Lord Kumaraswamy called as Subramanyeswar. The sage also stated that when people visit the particular temple, they will get whatever they look for in their life and finally they will be in a position to achieve salvation. This is why even today prayers in different forms are conducted by devotees and they do different sacrifices for their life issues to get resolved. For instance, childless women make a cradle out of new saree and tie it to the sacred tree in the temple to get a child. Like this, people pray for marriage, health issues and many other issues and they are getting resolution after offering their prayers to the lord.
Temple structure:
The primary deity of the Subramanya Swamy Temple is the Lord Subramanyeswara and the temple is under the operations of the royal family of Challapalli, who are presently managing the expenses related to the temple. Not just this temple, there is also another temple nearby this temple for Lord Shiva, who is in the form of Sri Sakaleswara Swamy. This swamy is known to have been self-manifested and the lord got this name because Sagara Chakravarthy, the grandfather of Sri Rama is known to have worshipped this lingam. In the year 1783, there was a huge flood in Mopidevi village and it was during this time the self-manifested linga was found. When this is stated as a story, there is also another story that states that linga was found by a potter. Let us find the story here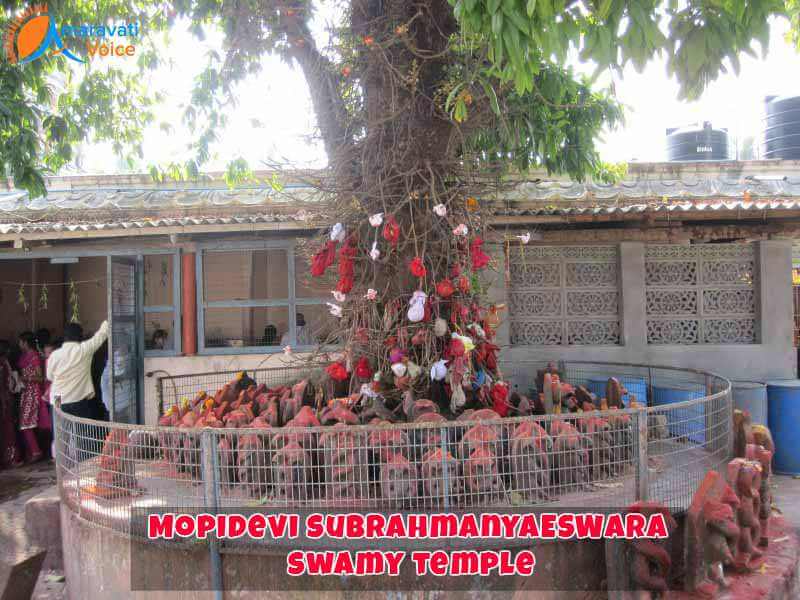 Veeravarapu Parvathalu, was not only a potter, but he was also a great devotee of Lord Shiva. The lord was pleased by the devotion of Parvathalu and appeared in his dream and guided him to dig up the anthill to find his lingam in Mopidevi village. Parvathalu then shared about his dream to the villagers and the villagers joined together to dig the place pointed out in his dream. To their surprise, they found the linga at the place pointed out and being a potter, Parvathalu, himself prepared the idols for Nandi, Horse, Garuda and Cock and baked them to make sure that they do not lose their form.
Major festivals:
Not just every week Tuesday and Shashti days every month, other festivals like skandha shashti, subrahmanya shashti is also celebrated in a grand manner in this temple every year.
How to reach?
This temple is located in the Vijayawada-Avanigadda roadline and a number of buses are being operated by the state government and private buses are also operated from Vijayawada to Avanigadda. The traveling time by bus from Vijayawada will take around two hours and on the way places like Kankipadu, Pamarru and Challapalli will pass by. Not just these buses, Vijayawada to Nagayalanka buses also pass through Mopidevi and so people traveling by bus can also choose these buses.
Share auto facilities:
Not just by buses, people can also reach Repalle railway station by train and from the railway station, share autos can be the ideal means to reach the temple, which will hardly take around 20-30 minutes. Even, people can also choose to travel on their own vehicles or private transportation services, such that they can spend more time on the temple as against taking bus or train as they will halt at each stopping/station, thereby consuming a lot of time.