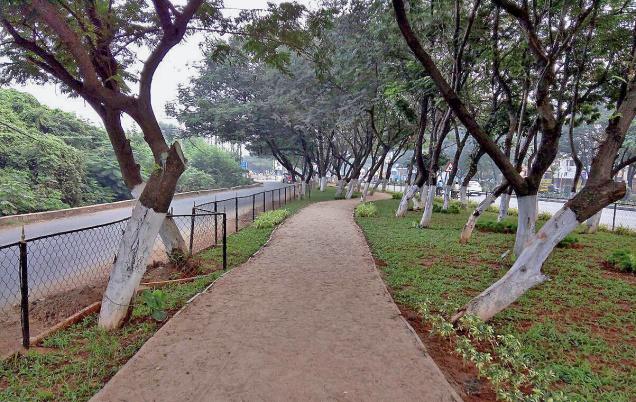 After emerging of apartments, malls culture, there is no open space to walkers in Vijayawada City. They have to rely on the grounds of educational institutions. VMC has developed a walking track on NH5 from Nirmala High School to Ramavarapadu. The track will be opened on December 27, at 5.30 AM.
This road was laid few decades ago, to connect Eluru Road and Bandar Road. During Vajpayee and Chandrababu regime it was converted into four lane national highway, with service roads and green belts. This road has started developing more, after Amaravati was declared as capital. As this is the road leading to Gannavaram Airport, CRDA and VMC has taken special care and done beautification to this road.
Under this green initiative, a walking track is also constructed in the green belt. This will help the walkers of Gunadala, Currency Nagar, Gurunanak Colony, Veterinary Colony, and other nearby localities walkers, who go for a morning walk either to Andhra Loyola College or the Government Polytechnic College. The track will be opened on December 27, at 5.30 AM.
Source: The Hindu