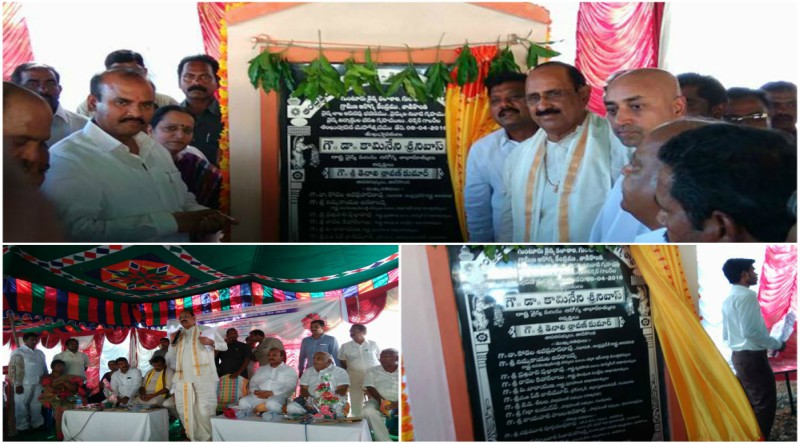 The foundation stone for the first 30-bed government hospital of new capital Amaravati at Tullur was laid by minister for medical and health K. Srinivas on Friday. He assured to provide best medical treatment to the natives of Amaravati. Addressing the media on the occasion, Mr Srinivas said that this 30-bed hospital was not in the earlier proposals. He said a few months ago when he was visiting Tullur and other villages, the public complained about the absence medical facilities despite selection of their areas for new capital and MLA.T. Sravan Kumar also asked for the hospital.
Hence, the hospital was sanctioned. He announced that this hospital will be completed in the next nine or 12 months. Praising the sacrifices of the farmers of the Amaravati capital region villages, Mr Srinivas promised to provide allround medical facilities to the public of Amaravati. Claiming that AP curbed infant mortality rate, he said that AP is the only state which is implementing all schemes of the Union government without fail. He said that the Union government praised the e-system implementation in AP He said the he did not see workaholic person like Chief Minister N. Chandrababu Naidu who is arduously working for the development of AP and the state developed as the second state in India in development.
Mr Srinivas said that AIIMS Mangalagiri designs were finalised and soon the construction of the buildings would be started and would be completed by 2018. Mr Srinivas claimed that Union minister for urban development M. Venkaiah Naidu was working for the allotment of projects and funds to AP and refuted allegations about differences between the BJP and the Telugu Desam. Responding to the allegations of some BJP leaders, he refused to comment terming them as their personal opinion. Minister for agriculture P. Pulla Rao said that a meeting with pooled farmers of Tullur and Mangalagiri mandals conducted and now the awareness meetings about roads and other structures would be held in all 29 villages of Amaravati capital region.
{youtube}wr6B_e5QoAc|500|250|1{/youtube}