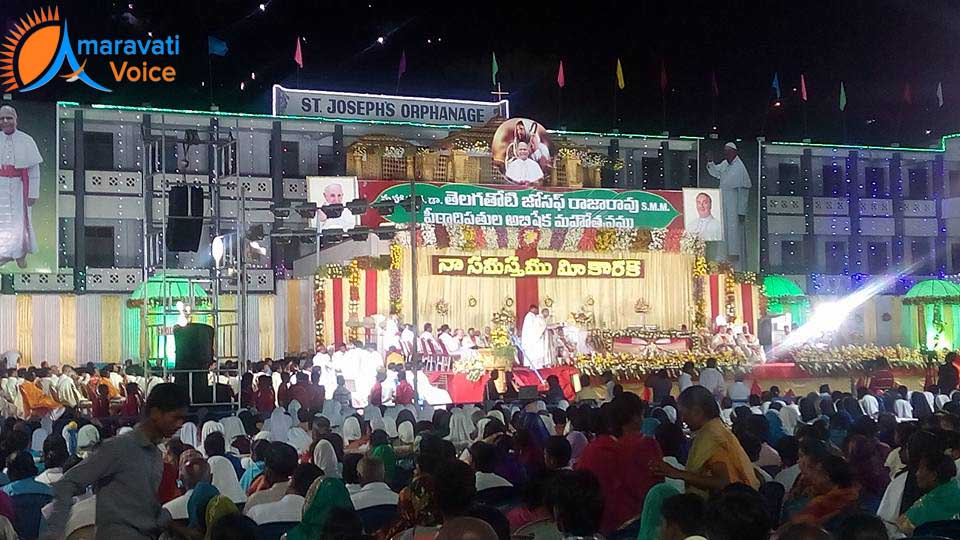 Rev.Thelagatho Joseph Raja Rao has been inducted as the sixth bishop of Vijayawada Diocese of Roman Catholic Mission by Rev.Salvatore Pennacchio, Apostolic Nunico and ambassador to Pope in India an Nepal, amid huge gathering of devotees on the grounds of Bishop Grassi High School in the city on Tuesday.
The Episcopal ordination has been carried out in the presence of Archbishop of Hdyerabad Rev.Thumma Bala and Archbishop of Visakhapatnam Rev. Mallavarapu Prakash at the holy mass conducted in the evening.
Bhisop Raja Rao, 63, a native of Pedda Avutapalli Village, close to Vijayawada, is an alumnus of Andhra Loyola College. He served in various positions in Mysore, Bangalore, Rome and others places.
The devotees offered fruits to the bishop, and sang holy songs, on the occasion. Managements of Maris Stella College, Nirmala High School, Loyola College and St Paul Cathedral were also present during the installation ceremony of the bishop.