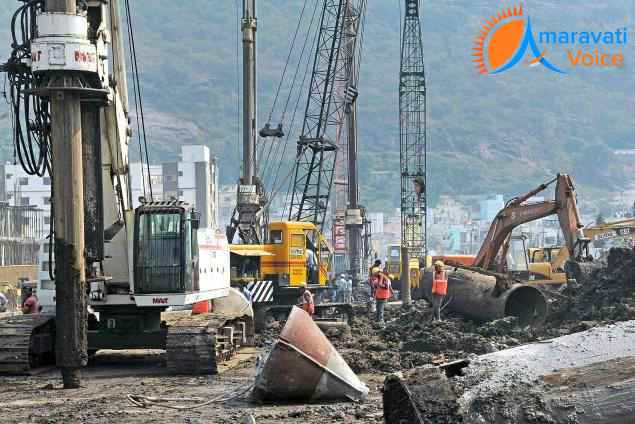 Krishna Collector Babu A. inspected the Kanaka Durga flyover construction works, and said that the flyover would be ready by Krishna Pushkarams. Collector said that 30 acres of land in Gollapudi, belonging to the Wakf Board had been handed over to the R&B Department for carrying out the construction works. Pre-casting works were being done in the site for speedy completion of the flyover construction. The project works is being continuously monitored by Vijayawada urban, rural MROs and they are making sure, everything is going according to the plan.
Soma Developers, which has bagged the contract of the Kanaka Durga flyover is deploying more and more workers and they are working round the clock in three shifts. Approximately 1000 government and private workers every day in this prestigious project. Latest technology is being used in every stage of the construction. 5 Piling rigs are being used.
Around 44 Pillars are being constructed for this flyover, from Bhavanipuram with Seethammavari Padalu, of which 9 pillars would be constructed into the Krishna river. The pillars are dig 140 feet into the ground. For each pillar 24, 20mm rods are being used. Around 336 piles have to be constructed and already 124 have been done, along the 2.55 km-long elevated structure. Soma Developers said that a total of 130 vehicles with casting equipment and material will reach Vijayawada from New Delhi in the next few weeks.
Also the four lane National Highway works are also going on pararlelly, with the six lane flyover. District Administration is confident to complete this by Krishna pushkaram