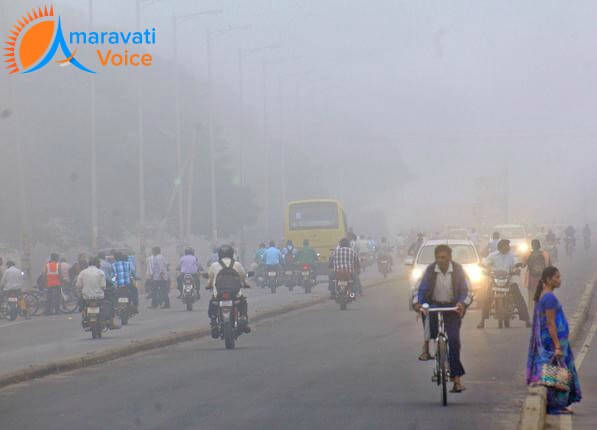 Vijayawada, Guntur cities continue to be under fog and mist cover. The blanket of fog and loads of mist is covering the city early morning, since the past 4 days. The city was in this cover until 10 AM. Traffic moment also is very slow due to fog, and the drivers are keeping on the vehicle lights and driving with extra caution.
People of Vijayawada and Guntur, are enjoying the chilled weather. Though the morning walkers are feeling little un-comfortable, they are also enjoying the experience. Many citizens are taking the photographs and sharing their experience on Facebook and Twitter. Many are thinking, is it Vijayawada or a Hill station, as tiny droplets are giving a fresh feeling. But, the day temperatures are increased and citizens are also worried how hot would be the coming summer
Though Buses and Trains are running on time, flights such as Air Costa, Spice Jet, Air India, both arriving and departing from Gannavaram were delayed by a couple of hours owing to thick fog. There must be at least 1,500 m visibility required for landing of flights, there was no visibility even to the extent of 200 m.