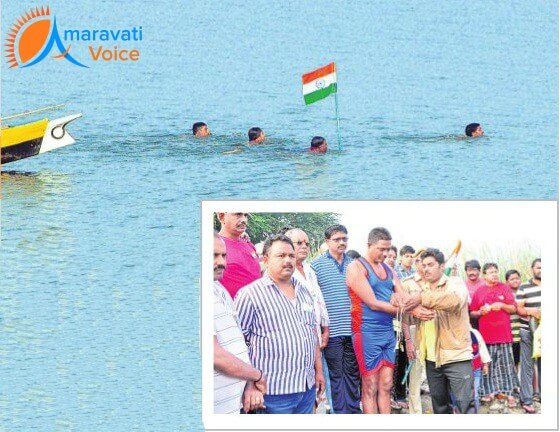 An avid swimmer L.Uma Maheswara Rao, a police constable in Vijayawada has adopted a novel way to honor the national flag on this Republic Day. he swam across Krishna river with his hands and legs tied and carried the National Flag on his body.
44 year old Mr.Rao, presently working as head constable in Vijayawada, swam across krishna river from Sitanagaram to Durga Ghat and back to Sitanagaram. It took one hour 45 minutes for his to cover 3.5 KM. Both the hands and leads were tied with ropes. By just using his body, he stayed aflat and crossed the river. People on the banks cheered the swimmer as soon as he completed the task. His associates followed as guards on boats.
Mr. Rao, also attempted this feat two times earlier also. Mr. Rao did his graduation from ABR College at Repalle in Guntur district. He joined the Police Department as Constable in 1994, and worked in various districts.