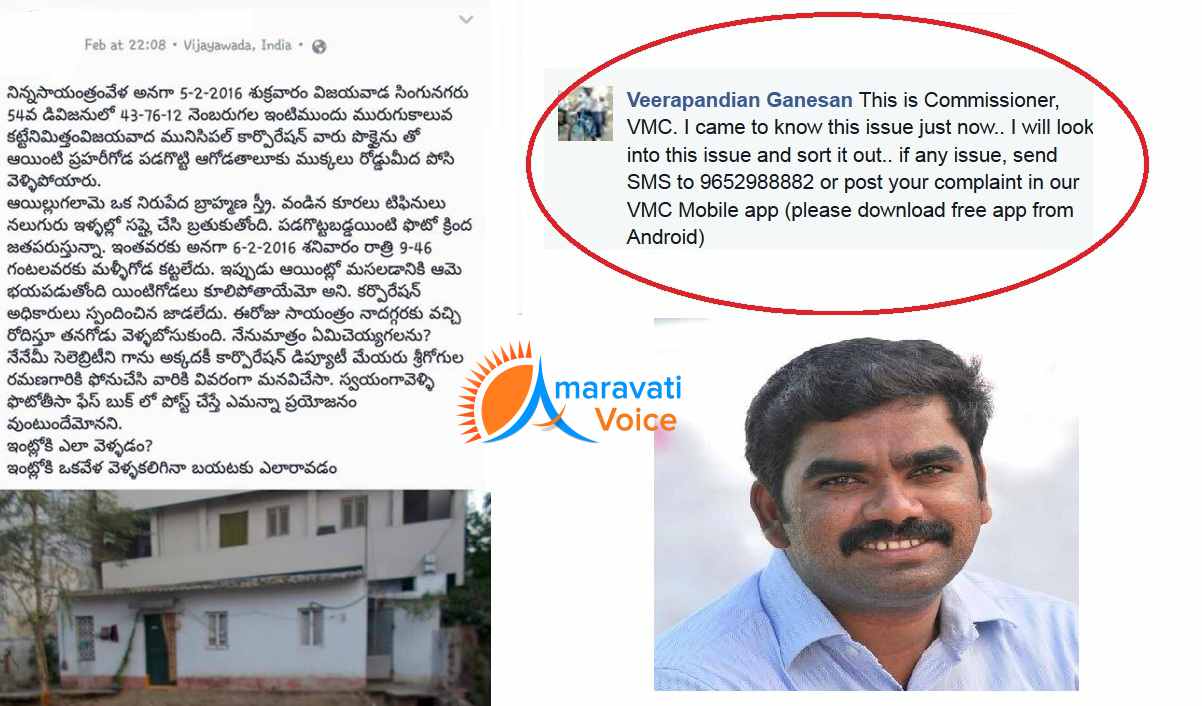 We have seen central ministers, addressing the grievances of public via twitter and helping them. On the same lines, Vijayawada's Tech-savvy Municipal Commissioner, has addressed the grievance of a old woman on social media and attended the issue within 5 hrs.
Going into details, a old woman who is residing in 54th division, has encroached and constructed a compound wall. VMC has demolished compound wall, which has been encroached, on February 5th. But as proper measures were not taken, the old woman who is residing in the house is worried as the walls of her house may collapse. She brought the issue to the notice of the local people. They have posted the issue on social media.
Finally it has reached to Vijayawada Municipal Commissioner, Mr.Veerapandian via Facebook, on February 7th 10.00 PM. Commissioner has posted his response on the Facebook post and assured the issue would be attended. Taking by a surprise, with the instructions of Commissioner, VMC has visited the house of the old woman early morning on February 8th, and started taking necessary measures to strengthen the walls of the house. Municipal Commissioner, replied on the same Facebook post, with the action been taken. He has urged public not to encroach the public lands, and face the issues. Also, he has asked people to register the complaints at https://www.facebook.com/profile.php?id=100009242163029 or SMS to 9652988882 or post the complaint in VMC Mobile app. The VMC's IT wing, which monitors the Facebook page and other platforms, will alert the heads of departments concerned to look into the civic grievances that are posted and also update about the action taken.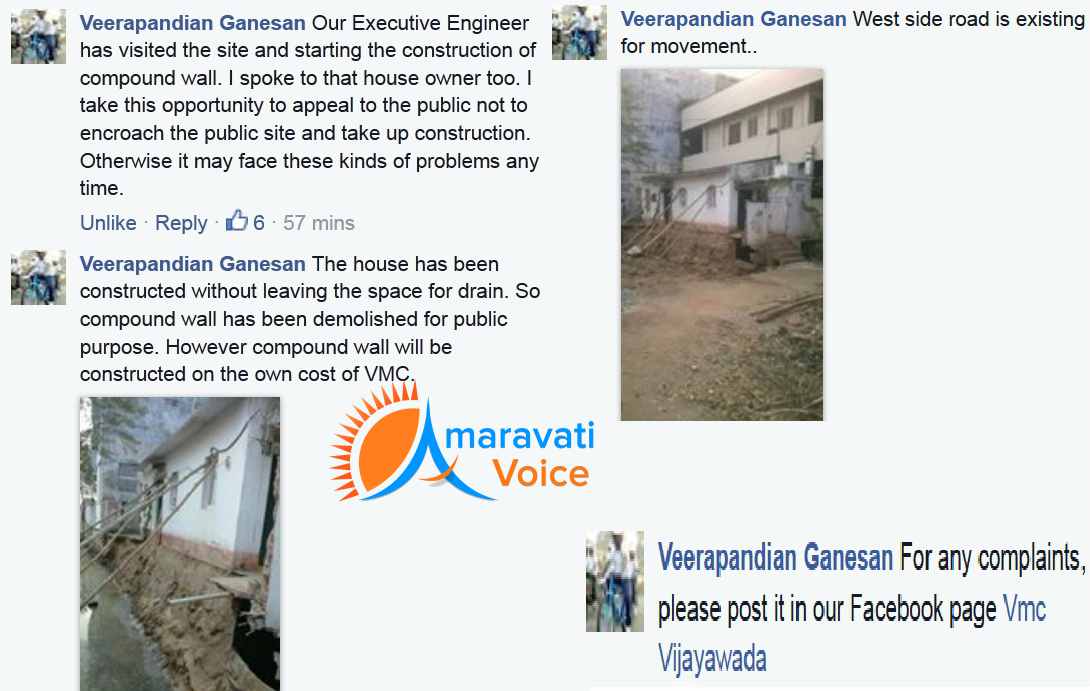 Mr.Veerapandian, Vijayawada Municipal Commissioner, has also solved some issues earlier also, which has brought to his notice, via his twitter handle and VMC Facebook page.
Seeing the quick action taken by Mr.Veerapandian, citizens are very happy the way the officer with a rank of Commissioner, responded. These type of actions create confidence and hope among public. Citizens are also requesting other officers and state ministers, also should use the vast potential of social media platforms, as an effective tool of governance.
On Behalf of AmaravatiVoice, we salute you officer....