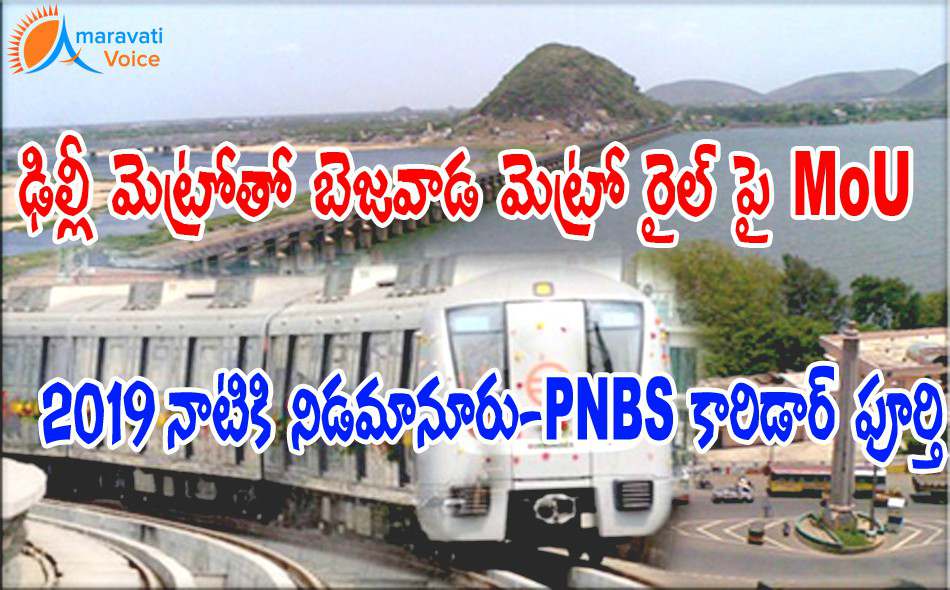 The Amaravati Metro Rail Corporation (AMRC) has entered into an agreement With Delhi Metro Rail Corporation (DMRC), for completion of Vijayawada Metro on term fee basis. According to this agreement, both the corridors have to be completed within 4 years. AMRC will conduct the first trail run of metro rail through Eluru road corridor by February 2019.
As part of the agreement, the DMRC Will design the process of calling for tenders, open tenders, finalization of tenders, award of tenders, supervision of concerned Works, supervision and management of execution of the Works by the contractor, and obtaining safety certification from railway authorities after completion of the works.
Later, the DMRC has to handover the project to AMRC for operation and maintenance, DMRC managing director, business director and AMRC managing director N.P. Ramakrishna Reddy have signed the agreement papers.
The DMRC has planned to construct two corridors in the city at a cost of Rs.6,823 crore, The 26-km metro project is expected to be completed by 2018. As many as 24 stations will come up on the two corridors - Penamaluru to PNBS and Nidamanuru to PNBS.
The DMRC has set the ball rolling for the Vijayawada Metro Project by calling e-tenders in two parts for the PNBS-Nidamanur Corridor in September. The Works include architectural finishing, Water supply, sanitary installation and drainage works. Both the Works are to be completed in 24 months. The metro project was considered keeping in view the potential of the city and likely projected increase in population.
The DMRC authorities are planning to construct the Eluru corridor as it will be connected to the depot at Nidamanuru. The Bandar Road Corridor Will be taken up at a later stage. More so, there are no land acquisition issues on Eluru Road compared to Bandar Road.
An interchange bus station would come up near PNBS. The passengers travelling on Bandar and Eluru Roads can board and alight there to change the train.