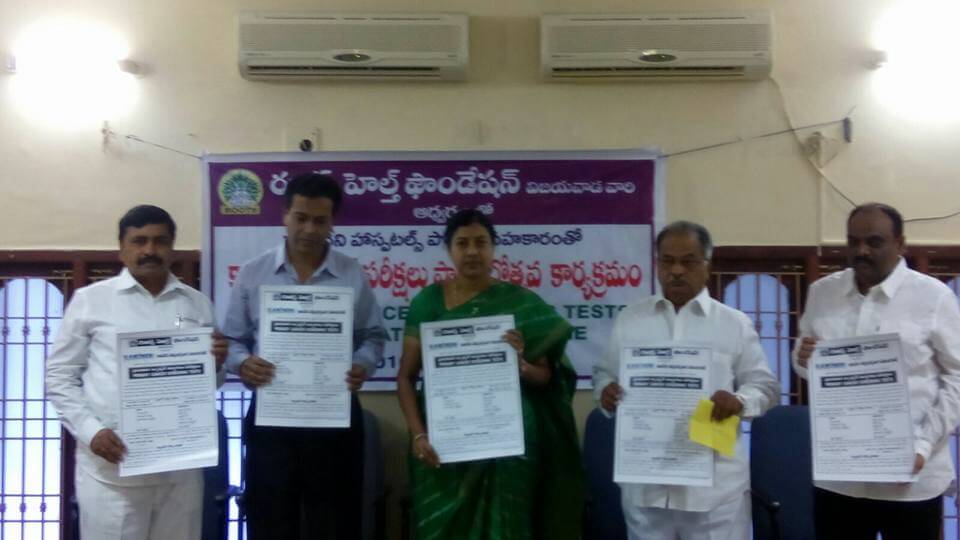 Roots Health Foundation from Vijayawada, as part of its awareness campaign against cancer, is distributing 'preliminary cancer screening scheme cards'. With Roots Health card, the cardholders can get expensive cancer screening tests done at very low prices. Roots Health Foundation has entered into tie-up with the Kamineni Group of Hospitals for a period of three years for the programme.
Under the scheme, preliminary screening tests that cost Rs. 3,000 for women will be done for Rs. 600, and tests that will cost Rs. 3,500 for men will be done for Rs. 800. The screening tests will be done at the same rate for three consecutive years for the card-holders. The tests include Mammogram and pap-smear will be done for women, and for men, the PSA blood test for prostate cancer will be done along with other tests
The programme is formally started at the Exhibition Society Office at Autonagar. Krishna district Zilla Parishad chairperson Gadde Anuradha has given away the cards to beneficiaries.
Dr. Vijaya Bhaskar, Chairman of Roots Health Foundation siad that, the hospital is doing regular screening tests for every 15 days at their hospital located at 10-09, Dhanekula Vaari Street, Lane opposite Ashok Nagar Bus Stop.