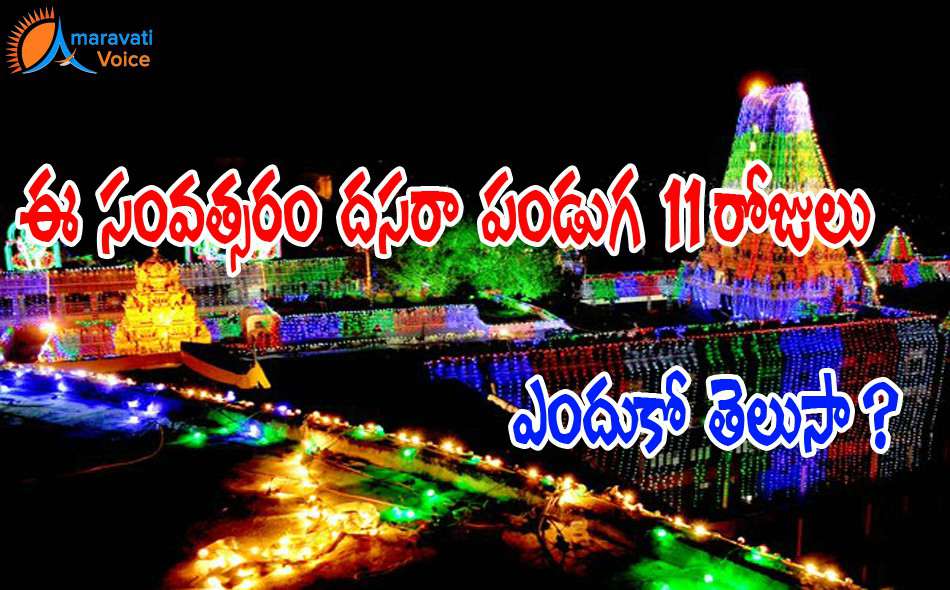 Normally we know that, Dasara is celebrated for 9 days. But due to Tithi variation, after three and half decades, this time Dasara festival will be organized for 11 days at Indrakeeladri. The same 11 day festival is organised way back in 1980, also which is the same year incidentally Krishna Pushkaram was held. In the year 1980, Pushkarams were also celebrated for 13 days, instead of 12 days, due to adhika masam.
The festival begins on October 1st. Everyday goddess Kanaka Durga will give darshan in one alankaram. The two extra alankarams are, "Sri Swarna Kavachalankrita Durga Devi" on the first day and "Katyayani Devi" alankaram on the fifth day. The other alankarams include 'Balatripura Sundari Devi', 'Annapoorna Devi', 'Gayatri Devi', 'Lalita Tripura Sundari Devi', 'Saraswati Devi', 'Mahalakshmi', 'Durga Devi', 'Mahishasura Mardhini', and 'Rajarajeswari Devi'
Normally Dasara is celebrated for 9 days, and in some cases 10 days. But after a gap of 35 years, now it is celebrated for 11 days. In 2010, a 10 day festival was organized.