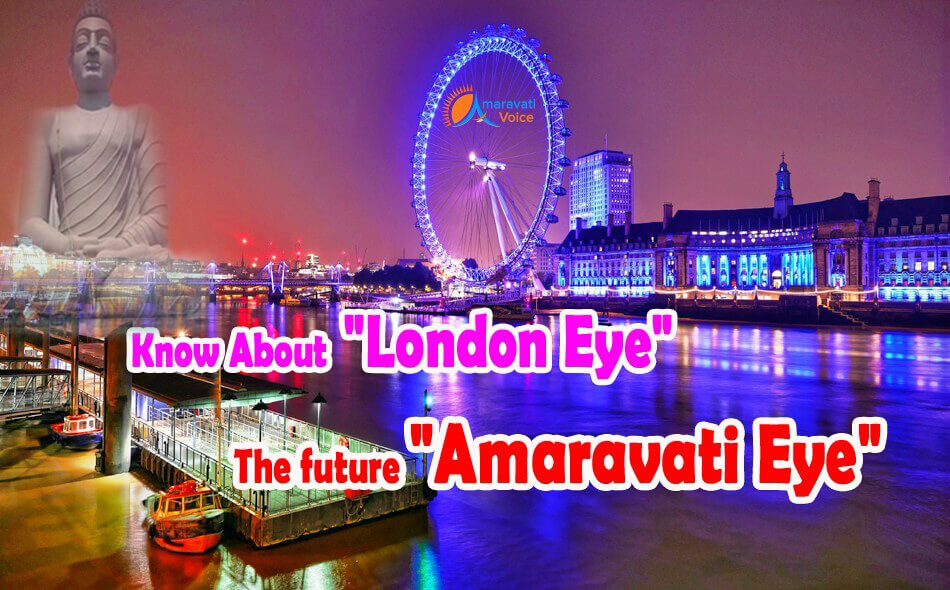 Recently in the tour of London, Chief Minister Chandrababu Naidu, after seeing world famous 'London Eye', is highly impressed and announced that he would try to set up a similar structure in Andhra Pradesh Capital Amaravati to attract tourists from across the globe. Also, Chief Minister has held initial tasks and asked to come up with a proposal of having similar one in Amaravati.
In this regard, we would like to tell you what is "London Eye" and how would it suits our Amaravati.
The London Eye, a very popular tourist attraction in London, is a big giant wheel located in the Jubilee Gardens on the South Bank of the River Thames in London. As our Amaravati, also would be in the banks of River Krishna, this would add a special attraction to tourists, if we set this up.
The other attractive thing of this is, from the top of the London Eye, we can see up to 40km radius. So, if we set this up in Amaravati, we can see the whole Amaravati city, Vijayawada and Guntur Cities.
Below are the Facts of London Eye:
The London Eye was formally opened by then Prime Minister Tony Blair on 31 December 1999, but did not open to the paying public until 9 March 2000
At 443 feet high, the London Eye is currently the fourth-largest Ferris wheel in the world
The London Eye has 32 capsules, representing 32 divisions of London
The circumference of the wheel is 1,392 feet and the height of the London Eye is 443ft
The entire wheel weighs more than 1,000 tons, or well over 1 million pounds
A ride on the London Eye takes 30 minutes, and it travels at a speed of about 0.6 miles per hour
With more than 3.5 million people checking out the Eye every year, it's now the most popular paid tourist attraction in the U.K
On a clear day, you can see around 40km from the top of the London Eye
The London Eye can carry 800 passengers per rotation, 25 passengers in 32 capsules
In one year the London Eye will rotate 7,668 times, or 2,300 miles
The project cost of the London Eye is 70 million USD