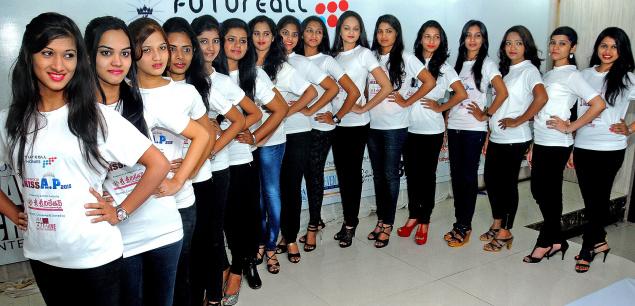 Vijayawada is going to witness more glamour this valentine's Day. City will witness a dazzling show that will produce the first ever Tollywood Miss AP. In the past, these events used to be held in Hyderabad.
Sri Sai Creative Entertainments from Vijayawada is going to conduct the event on February 14th from 6.00PM. The event will take place in the open ground of Siddhartha College of Hotel Management at Mogulrajpuram
17 Shortlisted candidates form Vijayawada, Guntur, Nellore, West Godavari, Rajahmundry and Visakhapatnam cities will show their talent in the event. In the first round 7 would be selected, in the second round 5 would be selected and finally top three would be selected and the top most will get "Miss AP" crown.
Miss Vijayawada, SriSatya, who is doing her BBA from Siddhartha Mahila College, Miss Vijayawada Runner up, Anne Sanjana and the second runner up, Samaya who is working as Air-hostess are participating in the event from Vijayawada.
Miss Guntur, S.Prasanna, who is doing law at JC College, runner up Kusuma Kumari, who is doing her B.Sc in Abhydaya College are taking part in the event from Guntur.
Film actor Brahmanandam, comedy actor Ali, actress Poonam Kaur, D. Avanindra Kumar of Pranayama Yog and model and upcoming actor Margani Bharath will judge the performances of the participants.
In addition, comedians, singers and dance troupes will entertain the crowd.