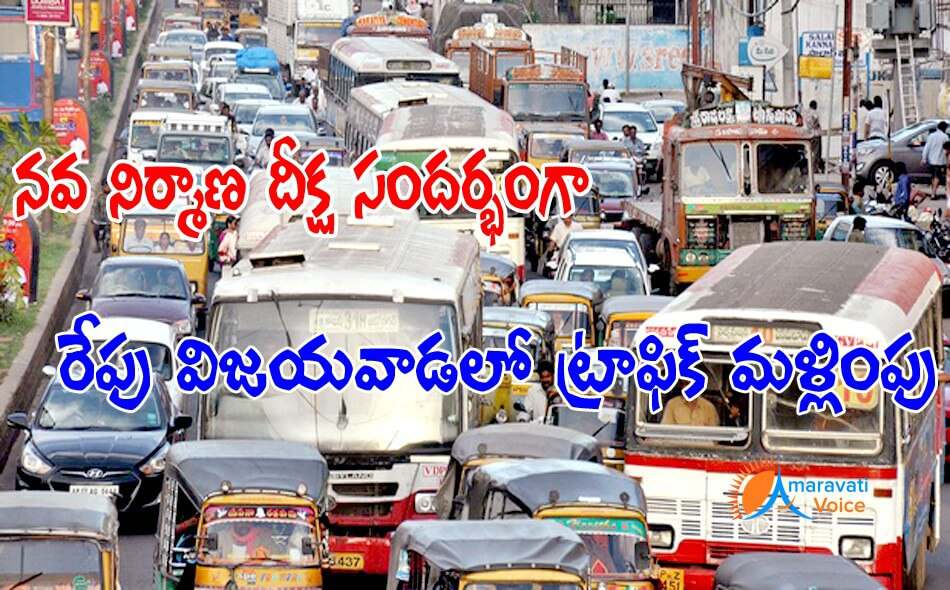 The city police imposed severe traffic diversions on M.G. Road, Eluru Road and other main roads in connection with the Nava Nirmana Deeksha on June 2 at Benz circle. The restrictions would be inforce from 4 am to 12 noon. Chief Minister N. Chandrababu Naidu would address a meeting at the Benz Circle after a rally.
Commissioner of police Gautam Sawang said the traffic diversions will be implemented strictly and all necessary measures taken to ensure the safety of the CM and common public.
Vehicles going towards Benz Circle from Machilipatnam will be allowed up to NTR Circle. Parking will be arranged on Pantakaluva Road. Vehicles coming from PWD Grounds would be stopped at Hotel DV Manor and parking would be at PB. Siddhartha College grounds. Vehicle on the the national highway from Guntur will be diverted at Fakirgudem. Parking will be organised near Doordarshan quarters.
Vehicles coming from Gannavaram will be diverted at Nirmala Convent Junction and parking would be at Government Polytechnic College grounds. Buses, lorries and cars going to Hyderabad, Kolkata, Visakhaptanam and Chennai via Vijayawada, will be diverted to alternate routes without disturbing the city traffic. Vehicles proceeding from Kolkata towards Hyderabad via Eluru will be diverted at Hanuman Junction, Nuzvid, Vissannapet, Kallur, Wyra and Khammam.
Traffic moving from Kolkata towards Chennai via Guntur will be diverted through Hanuman Junction, Gudivada, Pamarru, Avanigadda and will reach the highway at Bapatla. Vehicles proceeding towards Kolkata via Vijayawada will be diverted at Ibrahimpatnam Ring Road, Mylavaram, Nuzvid, Yanamadala, Agiripalli and Gannavaram. For the vehicles from Machilipatnam towards Chennai will be diverted via. Avanigadda and Bapatala. Heavy vehicles proceeding from Machilipatnam towards Hyderabad will be diverted towards Pamarru and Hanuman Junction and they will reach Hyderabad highway at Khammam touching Nuzvid, Vissannapet, Kallur, and Wyra. For the vehicles proceeding from Hyderabad to Chennai via Vijayawada will be diverted through Narketpalli, Nalgonda, Miryalaguda, and Piduguralla.