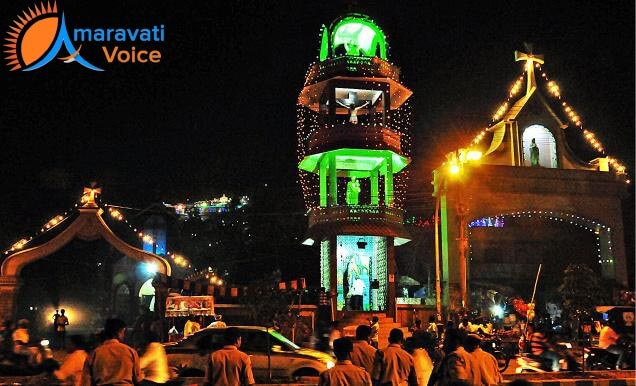 Vijayawada city is decked up for the three-day annual festival of Mother Mary at the Gunadala Hill beginning from February 9th. The entire premises of the hill, the Bishop Grassi High School grounds are readied for the most prestigious event for which lakhs of devotees wait all through the year. The festival here is one of the biggest for the Roman Catholic Mission in the Southern States, after the one held at Velankanni in Tamil Nadu.
Devotees from Andhra Pradesh, Telangana, Tamil Nadu, Karnataka and Kerala visit the holy shrine of Mother Mary at the adobe of the Gunadala Hill during the three days. The festival, which was initially started in a small way in 1923 by an Italian Missionary, Fr Pezzoni, had developed into a large festival for the Christians over the years. The hill, with a small pathway initially had a small statue of Mother Mary from 1925 that was replaced with a life size statue brought from Italy in 1951.
The shrine was developed with additional facilities for the pilgrims over the years by successive Bishops starting from Bishop Domenico Grassi, Bishop Ambrose De Battista, Bishop Joseph Thumma, Bishop Marampudi Joji and Bishop Mallavarapu Prakash. The sixth Bishop of the Vijayawada Diocese, Bishop Thelagthoti Joseph Raja Rao, who assumed charge on February 2, this year, is closely monitoring the arrangements both on the hill and in the high school premises for the three day annual festival. Arrangements were made for the night stays. Arrangements are also made for queue lines at the grotto and atop the hill for pilgrims to worship the holy mother.
The spacious Bishop Grassi High School Grounds, which holds the major events at the three day festival, including the Holy Eu-charist is decked up for the event. The civic administration, on its part, too had made elaborate arrangements for the three day annual event. The Vijayawada Municipal Corporation has positioned additional staff to monitor the sanitation works. Health Department has deputed temporary health teams. The city police too have posted additional security forces both on the hill, in the school campus and along the road in Gunadala to monitor the movement of the pilgrims during these three days