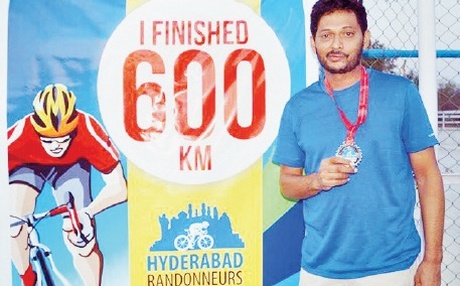 Sunder Ravella from Vijayawada, who is the member of Capital Cycling Club (CCC) has been awarded "Super Randonneur" Title. This is given upon successfully completing 200, 300, 400 and 600 km brevets in this calendar year of 2015-16.
Sunder Ravella was the first person from Vijayawada to complete the 'Super Randonneur' title this calendar year.
Brevet is a cycling event in which a cyclist is expected to be self-sufficient and ride through a predetermined course of set distance within a fixed time limit. Participants have to finish a 200km cycling course in 13.5 hours, 300km in 20 hours, 400km in 27 hours and 600km in 40 hours. Any cyclist who observes the rules and finishes the Brevet is awarded the title of Randonneur and any Randonneur who completes all four brevets in same calendar year is given the title Super Randonneur.