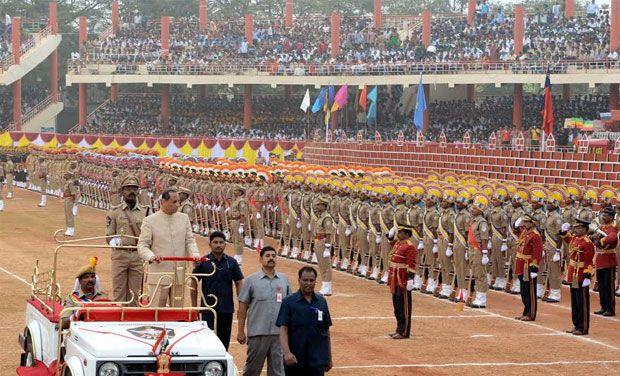 Rehearsals for the state-level Republic Day parade was held at the Indira Gandhi Municipal Corporation Stadium on Sunday morning.
Governor ESL Narasimhan would unfurl the Tricolour tomorrow. Chief Minister N. Chandrababu Naidu, a host of Ministers and bureaucrats will take part. The pass holders have been asked to occupy their respective galleries by 7 am.
Various contingents from the Indian Army, CRPF, Armed Police Band, the 5th, 14th and the 15th Battalion (Telangana State) of the Special Protection Force, non-combatants like the NCC, Scouts and Guides and the Red Cross will take part in the parade tomorrow.
Various government departments will display tableaus and students will perform cultural programmes, depicting patriotism, culture and tradition and thousands of people are expected to take part in the celebrations.
Director General of Police JV Ramudu, incharge collector G Chandrudu, commissioner of police Gowtham Sawang and other officials reviewed the arrangements.
Below are the parking slots and routes to reach Staidum
Cars with A1 and B1 passes proceeding towards IGMC from PWD Grounds should come via. DCP Banglow and RTO Junction.
A1n and B1 cars coming from Benz Circle should reach the stadium from D.V. Manor Hotel and P.V. Junction.
Guests from Moghalrajpuram should proceed via. Madhu Chowk, Pushpa Hotel, State Bank Road, State Guest House and PWD Grounds.
Vehicles proceeding from Krishnalanka should reach the venue through Fire Station, Raghavaiah Park, DCP Banglow and RTO Junction.
Vehicles having A1 passes should enter the stadium through Gate 1 and park vehicles at Hand Ball Court and Bishop Hazaraiah School.
Vehicles with B1 passes should enter the stadium from Gate 2, exit through Gate 3 and park vehicles in Police Parade Grounds.
'V car pass' holders will park vehicles on PWD Grounds or PVP Mall and reach the venue by foot from Gate 4.
Buses transporting children will reach the venue by 7 a.m.
Two, three and four-wheelers which do not have any passes should park at PWD Grounds or Siddhartha Public School or College and enter into the stadium from Gate 4, 5 and 6.