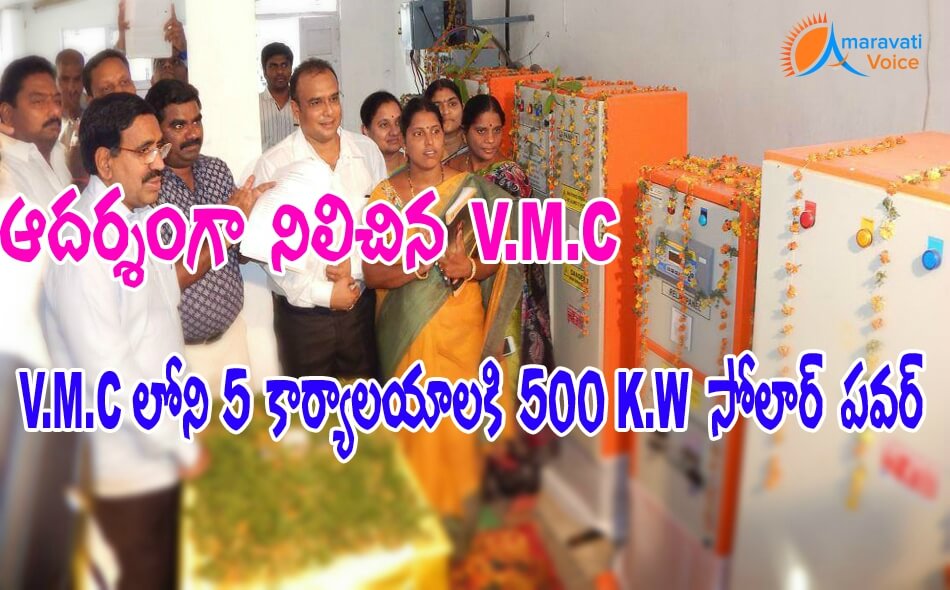 Bid to make Vijayawada Municipal Corporation (VMC) self-sustainable, roof top solar panels of 500 KW have been installed on the administrative building of WMC and Council Hall. Minister for municipal administration P. Narayana inaugurated solar power plants at WMC main office. The project was undertaken by a private firm with an estimated amount of Rs.2 crore to provide solar power to the VMC office.
It was estimated that the VMC has been Consuming Rs.28 lakh worth electricity on an average per month in a given year. At present, they installed two 100 KW capacity plants on the VMC main building and on the council hall. The VMC is also planning to install the solar systems at Singh Nagar, head water tank and Ramalingeswara Nagar.
After installing them at all the identified five places, including the VMC main office and the council hall the installed capacity of solar power of the corporation would reach 500 K.W. One 100 KW system can possibly produce 12000 units a month, which makes 60,000 units of total five plants. There is a chance of giving back the excess energy produced to the grid.
{youtube}z2z-pvTUOOc|500|250|1{/youtube}