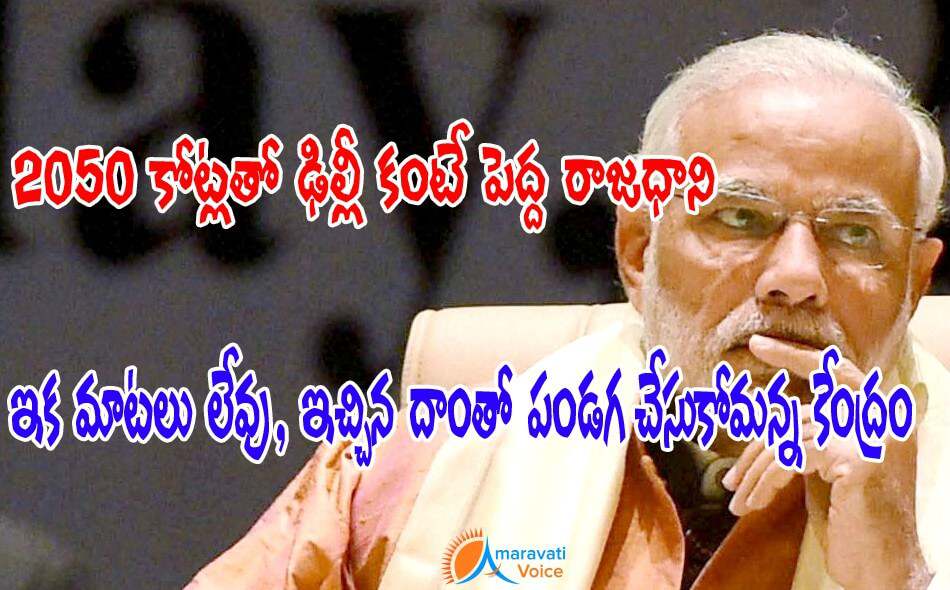 After series of shocks to Andhra Pradesh, Central Government has given a fresh jolt. Hope everybody could remember the words said by PM Narendra Modi in Tirupati that, Andhra will get a better capital than Delhi. But, the sources from Finance Ministry are saying that, they are not going to give any single paisa more to Amaravati. Till now center have given 2050 crores for Amaravati construction and finance ministry declared they are not going to give an more funds to the capital construction.
According to Andhra Pradesh Reorganization Act that, the revenue deficit which has to be bared by Central government. But central government is violating this also. Out of 16000 crores revenue deficit in first year, till now only 2800 crores are released and it is willing to release another 4000 crores. And central government is not willing to give the remaining 10000 crores, saying that they will not consider the amount spent on social welfare schemes.
Central Government has also ruled off the special tax incentives. Central government is not willing to give any special tax incentives to Andhra Pradesh.
Already it has made clear there is no Special status. The only relief thing is, it has accepted to give Rs.350 cores every year to backward districts for another four years.
Political analysts are saying that, with these kind of acts from Central Government, it is going to face the music from Andhra Pradesh public