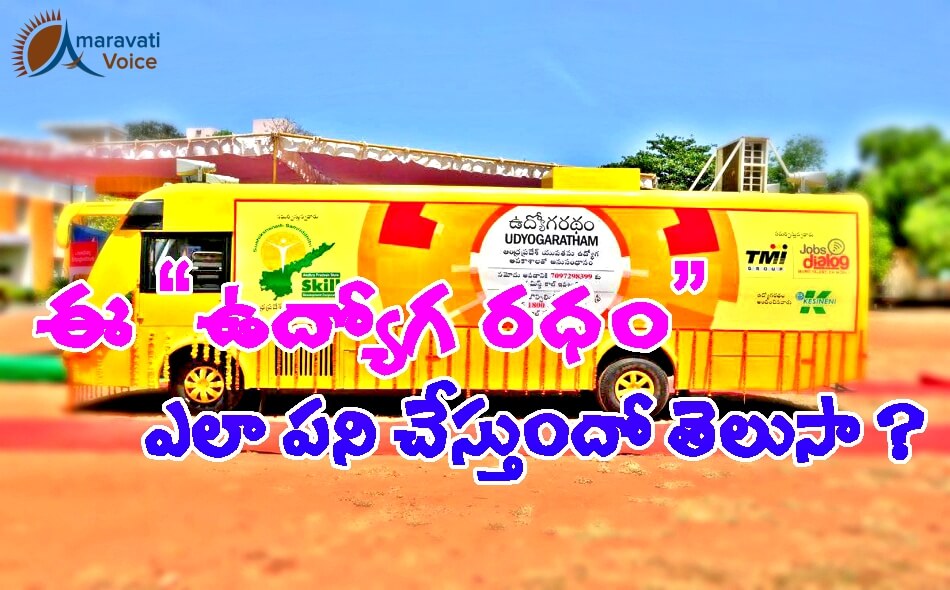 Chief Minister Chandrababu Naidu inaugurated the 'Udyoga Ratham', a mobile employment-cum-skill development centre and the first mobile based recruitment solution at PB Siddhartha College in Vijayawada on April 28th. This service is a joint venture of TMI Group and Kesineni Trust. Kesineni Trust gave away this bus free of cost.
This 'Udyoga Ratham' will connect job seekers and employers. This would help for the un-employed who doesn't have internet access and find it difficult to find employment opportunities.
'Udyoga Ratham', the mobile employment-cum-skill development centre, is gaining popularity among the youth in the city with a large number of job-seekers applying for jobs in various sectors.
How does it work ?
This 'Udyoga Ratham' will collect all the employment opportunities in Micro, Small and Medium Enterprises (MSMEs). The mobile centre will help the youth of the capital region and neighboring cities to find jobs. Un-employed will register here and the profiles of the candidates would be forwarded to the companies looking for candidates.
This bus keeps on roaming on the roads of the city. They go to the near by shops, small companies and ask if they have any requirement of candidates. They register the details and forward to the candidates who fit for that job.
How this will help for un-employed ?
First the un-employed should register by giving a missed call to 7097298399 through 'Jobs Dialog,' a voice-based mobile solution that gathers candidate details.
It forwards the same to the job providers, which is followed by a filtering process as per the experience and requirement needs. This is then followed by an interview by the employer. The entire information is facilitated through partnered corporate contact centres (call centres) for engaging job seekers and the potential employers.
{youtube}K-yLsNzpqlA|500|250|1{/youtube}