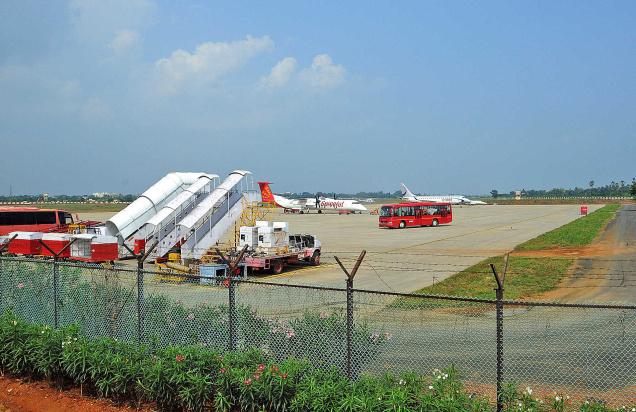 Gannavaram Airport is going to witness double traffic from next month. All the air carriers are increasing their services. The same way Airport is also getting ready with new Parking Bays, which would be ready by April First Week.
Gannavaram Airport has started its service with Kingfisher Airport in 2005. Now it is having 24 services every day and it is going to double by Pushkarams.
To connect international flyers, Vijayawada-Delhi Late-Night Flight from April 15:
In an attempt to connect international flyers between Vijayawada and New Delhi, Air India would begin a new service from April 15. This flight which connects Vijayawada and New Delhi in the evening comes as a great help to those flying to New York, Chicago and San Francisco.
The flight would start at 6.50 PM at New Delhi and reach Vijayawada airport at 9.10 AM. It will depart at 9.50 PM from Vijayawada Airport and reach New Delhi at 12.00 Midnight.
This would help the flyers from Krishna, Guntur, Prakasam and Godavari Districts in the state and they need not to depend on Hyderabad Airport to catch international flights.
5-Days a week, Vijayawada-Bengaluru Flight from April 1st:
Alliance Air, a subsidiary of Air India, is going to start flight service between Bengaluru and Vijayawada with an ATR42-320 aircraft from April 1st.
This service will be operated five days a week from Monday to Friday and is scheduled to depart from Bengaluru at 4 PM and arrive Vijayawada Airport at 5.30 PM
The return service will depart from Vijayawada at 5.50 PM and reach Bengaluru at 7.20 PM.
These flights will help the flyers from Vijayawada to several domestic and international destinations, through Bengaluru. Similarly, passengers arriving into Bengaluru from the Gulf and other international and domestic destinations will also be able to connect to Vijayawada.