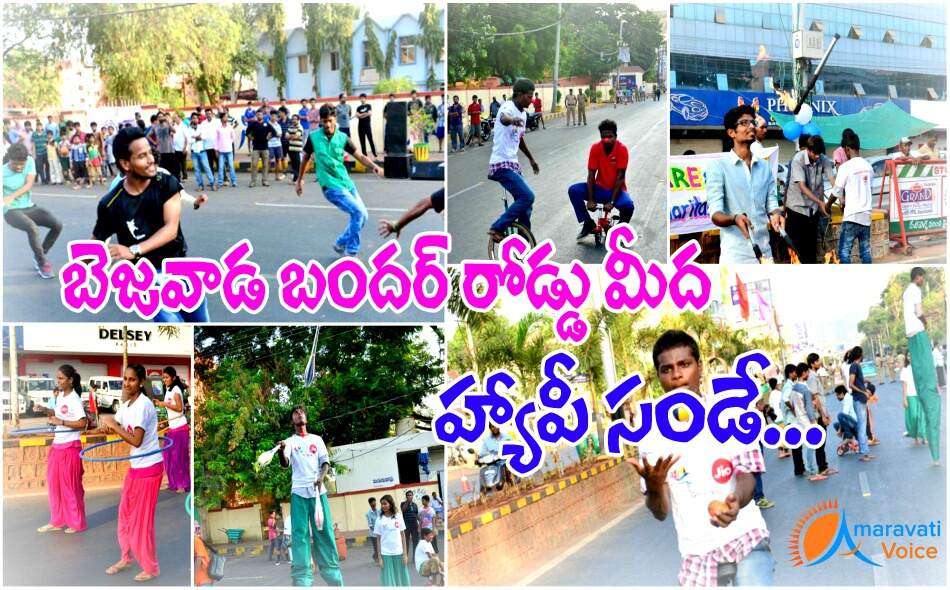 Vijayawada city witnessed "Happy Sunday" on the ever busy Bandar Road turning vehicle-free for a couple of hours in the morning and people enjoyed the variety of programmes organised on the occasion. Though, the roads were closed for a couple of hours for 5k run, 10k run, cyclothon on the first Sunday of the month, it was the first time that a main arterial road in the city at Indira Gandhi Municipal Corporation Stadium (IGMCS) was closed for a few hours to facilitate people to have leisure time.
Around 250 people had volunteered to participate in different programmes, which included running, cycling, skating, archery, traditional sports and games, stilt walking fire breathing, hulahoop dance by young girls and others attracted many.
The main purpose, according to Vijayawada Municipal Commissioner G Veerapandian was to increase awareness about health among people and at the same time provide a platform for the public to spend some quality leisure time. Expressing his happiness over the event, city police commissioner D Gautam Sawang assured complete cooperation from the police department for the programme.
VMC had organised the programme in collaboration with DEEP Trust, a NGO working for healthcare. VMC placed the concept of Happy Sunday in its Budget 2016-17. The first edition of Happy Sunday cost around Rs. 70,000. Buoyed by the success of the event, city administration had decided to make it a regular feature and hold it on the first Sunday of every month hereafter.
It was also decided to expand the programme to other parts of the city and next month, it would be held at five places-Gurunanak Colony, Pantakaluva Road, BRTS Road, KT Road, Krambay Road-in addition to Bandar Road (MG Road) at IGMCS.
{youtube}Uu1Gv61qy9o|500|250|1{/youtube}