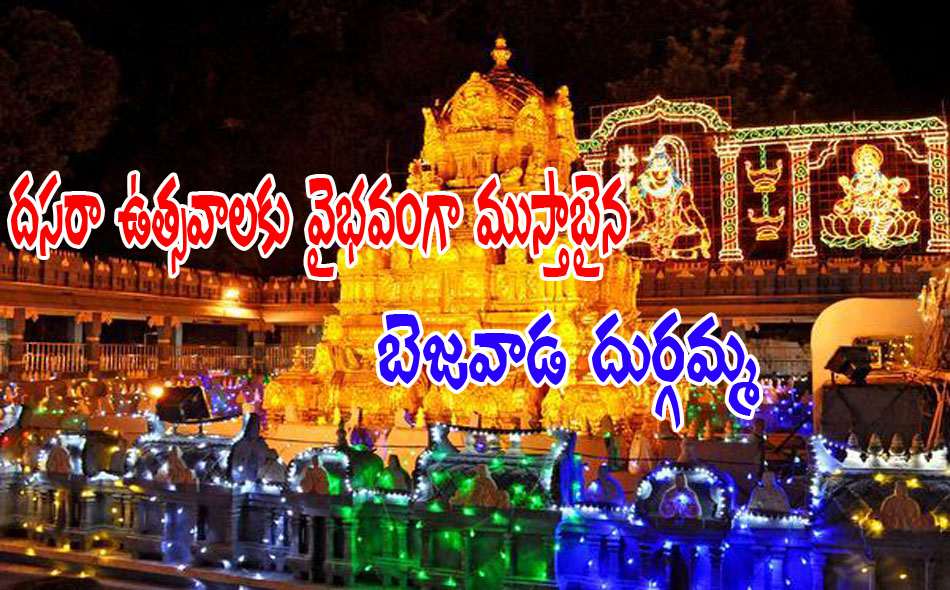 Sri Durga Malleswara Swamy Varla Devasthanam, atop Indrakeekaldri Hill has made all the foolproof arrangements for the smooth functioning and darshan for the 11 day Dasara Utsavams. The Dasara utsavams will be held from October 1st to 11th
This time Dasara festival will be celebrated for 11 days, which is almost after 36 years in 1980.
As the Andhra Pradesh government has declared Dasara as a state festival, elaborate arrangements are made at a cost of Rs.5 crore.
Officials are expecting that 50,000 to 60,000 people are expected to have darshan every day and on 'Moola Nakshatram' (Oct 8) and 'Vijaya Dasami (Oct 11) days, the rush is expected to touch 3 lakh and 2.5 lakh.
Two queue lines would start from Vinayaka Temple and when reached Ghat road, 4 queue lines would be arranged for Darshan.
There would be two free queue lines, one line for Rs.100 ticket and another queue line with Rs.300 ticket.
The prasadam counters would be available at Mallikarjuna Mahamandapam and also in the counters at bus stand and railway station.
Free bus facility will be provided from railway station and bus station to the bathing ghats and Vinayaka Temple on the Canal Road.
Rituals like 'Chandi Homam' and 'Laksha Kumkumarchana' will be observed during the festival for which tickets worth Rs 5,000 have been kept ready.
Free buses will also be plied from Ashoka Pillar to Indrakeeladri Hill and from Kummaripalem to Bhavani Ghat for physically challenged and elderly people.
'Annadanam' will be arranged at Sringeri Peetham on Arjun Street.
A 'Shobha Yatra' will be taken out on September 29 on Brahmin Street in One-Town, during which Goddess Durga will be adorned with 11 different types of special sarees offered by the devotees.
Complete details can be found from website www.durgamma.com or from Toll Free Number 18004259099