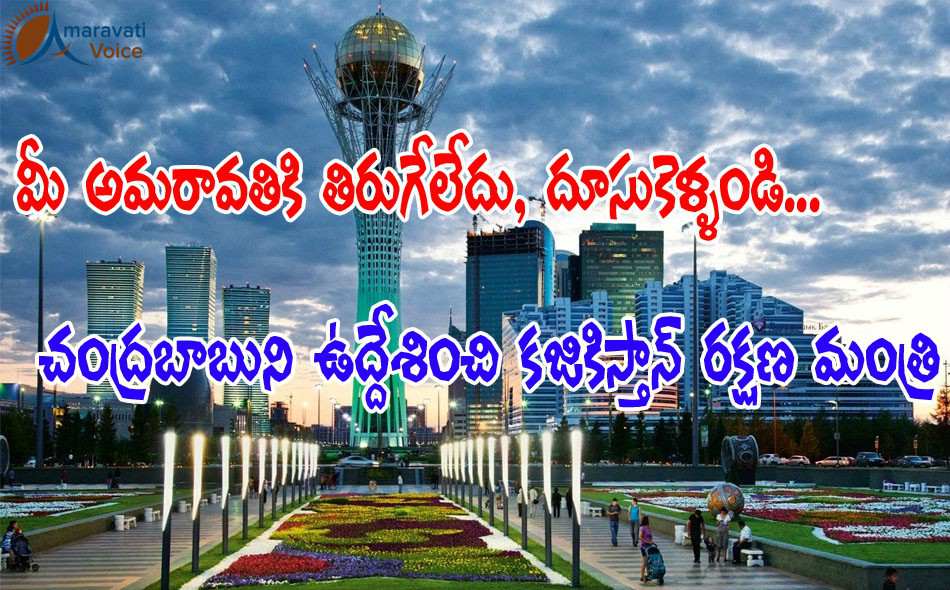 Andhra Pradesh Chief Minister Chandrababu Naidu landed in Kazakhstan, on his five-day trip of the CIS (Commonwealth of Independent States). The decision to visit Kazakhstan was taken after, Prime Minister Narendra Modi suggested, Chandrababu Naidu to go and study how its new capital city Astana was built.
Chief Minister Chandrababu Naidu was welcomed by Kazakhstans Defence Minister Imangali Tasmagambetov and discussed the capital development issue. Tasmagambetov was formerly Mayor of Astana and was instrumental in building Kazakhstan's new capital city.
"Almaty was to a corner of the country and we realised the need to build a capital in the centre of the country. When our President wanted to build a new capital, people questioned if it was necessary. Now, we are celebrating the 18th anniversary of the new capital," Tasmagambetov was quoted as telling Naidu.
"For designing and developing the capital city, we pooled resources from government, private and foreign companies. Basic infrastructure like electricity cabling, drainage were created underground. We spent most of the money on infrastructure building only," the Kazakhstan defence minister said.
"If we can create confidence, investors are ready to put in their money. Our rules and regulations should be liberal and transparent," he added.
Tasmagambetov expressed hope that Andhra Pradesh, which was building its new capital city Amaravati, would be able to attract investments to the tune of $20 billion and become a super power very soon.
Chief Minister also said there were "similarities" between Andhra Pradesh and Kazakhstan.
"You separated from Russia and ours is also a state that has been divided. Now, the world is talking about you. So our Prime Minister insisted me to visit your country," Naidu said.