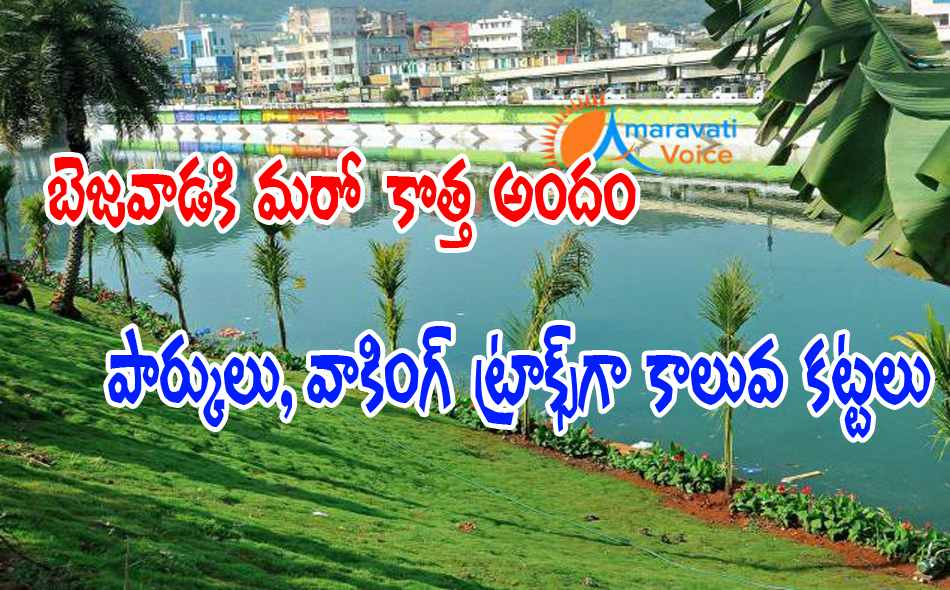 Vijayawada city canals bunds are turning into walking zones and parks for public utility. The state government completed half of the canals beautification project as part of Krishna Pushkaralu Works. The implementation of remaining half seems difficult as several canal bunds are encroached with houses, commercial establishments and temples.
The canal bunds in the city are now more attractive due to the recent beautification works like planting of saplings and grass turfs. The canal bunds at Pandit Nehru bus station, old government hospital, old bus station, Raghavaiah Park and Hanumanpet have already been beautified. Chairs and walking zones have also been provided on the canal bunds.
Significantly, the local body officials developed a park with various kinds of waste materials. Now the park on the canal bund, which has been set up at police control room with waste material is drawing the attention of the citizens. Similarly, the canal bund has been turned into a walking track at the old government hospital.
Already people from various colonies are using the Walking tracks, which were already on roadsides in the stretch from Benz Circle to Ramavarapadu. Actually the people of the city were not interested to use the tracks but now there is visibly good response from the people of various nearby colonies. After observing the public mindset, the local authority has concentrated to develop the canal bunds into walking tracks.
Presently, the canal bunds at Lenin Centre, Hanumanpet, Gulabithota, Gandhinagar, Labbipet and Ramalingeswaranagar are with full of encroachments. Still there are One lakh encroachments on the canal bunds along with various business establishments.