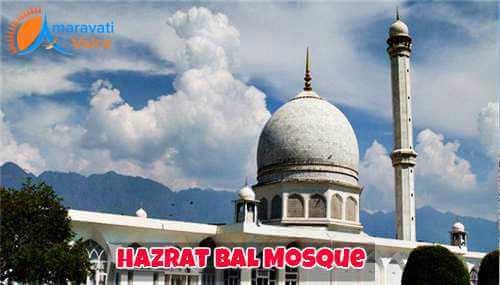 Summary: Muslims generally make it a point to visit the Hazrat Bal Mosque during their visit to Vijayawada and you too can plan your visit.
If you are a spiritual person with great interest towards exploring the worship spots of different religions, without any doubt Vijayawada can quench your thirst. With the great temples like Kanaka Durga Temple, churches like Gunadala Matha Shrine and of course, mosque like Hazrat Bal Mosque, you can get the chance to explore religious spots for sure. Not just religious spots, this city has many other attractions like parks, dam sites, caves, hills, museums, forts and multiplexes. This means that when you take your family to Vijayawada on a vacation, each one of your tastes will be rightly quenched in Vijayawada with her great attractions. Now, let us explore some details about the Hazrat Bal Mosque:
This mosque is rightly standing on the heart of the city and it houses a holy relic of the Prophet Mohammed, who is regarded as the last messenger of god by Muslims. So, Muslims from around the country, treat this mosque as the memento of Mohammed, whose preaching they continue to follow as they consider his words as the words of the Almighty.
Once in a year:
Even though, this place is worshipped all-round the year, the relics of Mohammed are displayed only once in a year. This day attracts Muslims from around the world as they feel getting a glimpse of the relics of their preacher as a holy happening in their lives. This day on which the relics are displayed for public each year is considered an auspicious day for praying and for paying respects.
The communal harmony that exists in the city of Vijayawada can be rightly understood on this day. The reason is that not just Muslims, but also people from other communities offer their prayers on this Hazrat Bal Mosque simultaneously.
How to reach?
Hazrat Bal Mosque can be reached easily either with the help of public transportation buses operated from different parts of Vijayawada. Not just public transportation, private vehicles like autos and taxis can be hired by tourists to reach this mosque.
As the Hazrat Bal Mosque is located in the heart of the city of Vijayawada, tourists can easily visit this spot. It is located in the Amaravati Region of the state of Andhra Pradesh. To reach this place you can take public buses or even private vehicles on hire.