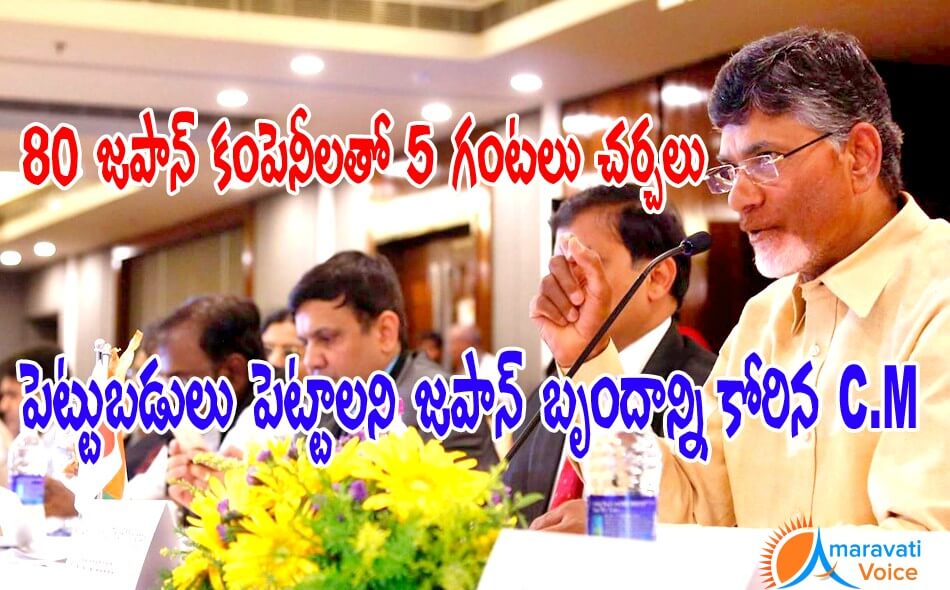 Chief Minister Chandrababu Naidu has requested Japanese ministers, industrialists and higher officials to look at Amaravati capital city as the second Tokyo of Japan. Interacting with the Japanese delegates here on Monday, he said a huge volume of human and natural resources are available in AP while Japan has technology and financial resources. A combination of Japan and AP will help develop both the entities. He said that the government would provide direct flights to Tokyo from the Gannavaram airport.
Buddhism was extended to the eastern countries from Andhra Pradesh and Nagarjunudu was also born in the same place. Some 60 per cent of India's population is youth and India is in fourth place for getting investments from Japan. Explaining the opportunities in AP with a power point presentation, he said that agro processing. mechanisation and agriculture units are suitable areas for investments. Mr Naidu hailed the hardworking nature and discipline of Japanese, and invited the Japanese to take part in the fiber cable system and smart meters projects.
On this occasion, the Chief Minister has given the real-time smart meter devise project to Japanese Fuji Company. Besides, several companies expressed their interest in various project in Andhra Pradesh. The JF Company evinced interest in handling the waste management project and Nippon signal also has come forwarded to provide technological cooperation in traffic management in Amaravati capital city.
Mr Naidu requested the Japanese company to first implement the project in Vijayawada city on a trail basis. The SES company expressed interest in city surveillance and the CM requested them to introduce face recognition technology and crowd behavior monitoring technology in the forthcoming Krishna pushkaralu. International Initiative Japan (ILJ) is also interested in E-governance and electronic land registration system. The Chief Minister requested them to setup a cloud data centre. The Toshiba company explained disaster prevention solutions for AP's new capital city. The company was also told to develop the only weather monitoring system but also flood management system. The Hitachi company expressed an interest to invest in smart city and energy management.
{youtube}fdmIYea1NYc|500|250|1{/youtube}