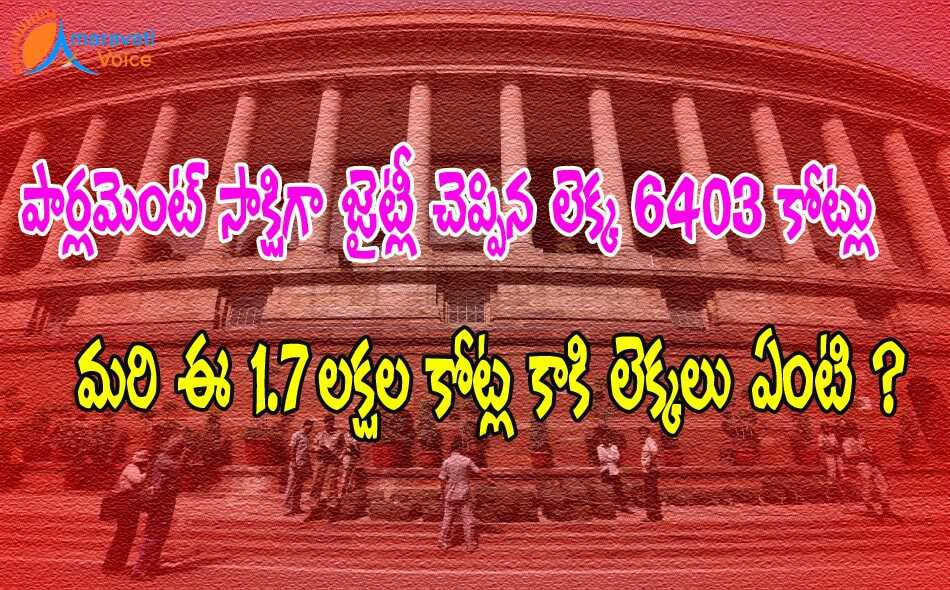 Yesterday Andhra Pradesh BJP has held a co-ordination meeting, headed by BJP national secretary and its state party affairs in-charge Siddharth Nath Singh. After the meeting the state BJP leaders claimed that, Center has given 1.7 cores and they are asking the state government to show the accounts for the amount spent on this amount. But BJP state leaders even did not have a minimum common sense that, those are just the statements given and not even the allocations are made in the budget for many of the promises made.
Just 10 days back, Arun Jaitley in the floor of the house declared that, center has given 6403 crores to Andhra Pradesh. Then it is a simple logic that, how State BJP leaders are asking to show the accounts for 1.7 lakh crores. State BJP leaders seem to be struggling to defend the center's cheating to Andhra Pradesh and bringing out these ridiculous arguments.
In a reply to a question asked by Anakapalli TDP MP Muttamsetti Srinivasa Rao about the special status, the Union Finance Minister, Arun Jaitley has replied during the Zero hour in Lok Sabha on May 4th 2016.
Finance Minister himself replied in the floor of the house that, the additional help done to Andhra Pradesh is around Rs. 6,403 crores to assist the State financially.
These funds include, Rs. 2,805 crores as a compensation for revenue deficit, Rs. 2,050 crores for the capital Amaravati, Rs. 850 crores for Polavaram project, Rs. 700 crores for backward regions.
{youtube}cWVOktN4ylc|500|250|1{/youtube}