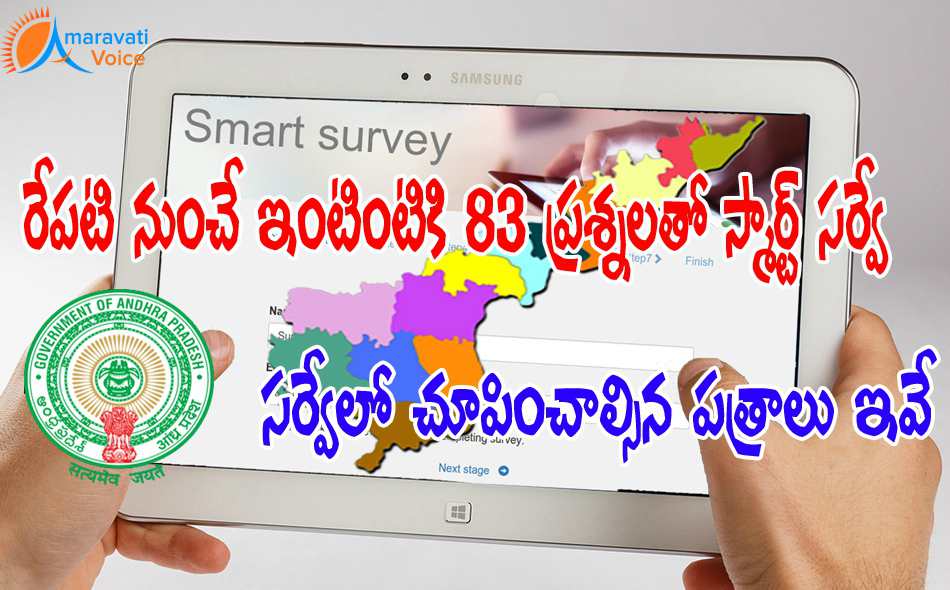 The Andhra Pradesh government will conduct a smart household survey, a first in the country. It will provide an opportunity for people to update their information.
The survey will have 20 parameters based on the socio-economic status and other important data of the individuals and of the households. The revenue department is appointed as the nodal office for the smartpulse survey. As many as 83 questions would be asked in the survery.
The survey will have key parameters like Aadhaar number bank passbook number, water bill, caste certificate and income certificate, Kisan card, DWCRA certificate and post and pre-metric scholarship. The smartpulse survey will be up to date and will be better than the census which is conducted once in 10 years. It will be more transparent as it is authenticated by the respondents.
As many as 4,539 tabs will be used to conduct the survey and everything would be processed online. "Through the use of technology we are reducing the workload of the government servants and we can achieve transparent and authentic information." said the chief minister
The governmentis keen on providing social,food, electricity, gas,fodder, fibre grid information and water security for drinking, irrigation, industry and for the cattle.
The government has deployed 35 groups to conduct the smart pulse survey, and each enumerator will cover 14 houses to collect the required data in one day. A command centre is set up for coordination among the officials who conduct this survey.
The proofs / documents required to be apprised are: Aadhaar numbers, ration cards, voter identities, property documents, electricity bills, driving licences, vehicle registrations, Pattadar passbooks, LPG connection details, bank passbooks, salary certificates, SADARAM (disability) certificates, water bills, castes certificates, Kisan cards, pension certificates, NREGS identity cards, DWCRA membership cards, birth certificates and scholarship proofs.
{youtube}dl7Hy9xYLN0|500|250|1{/youtube}