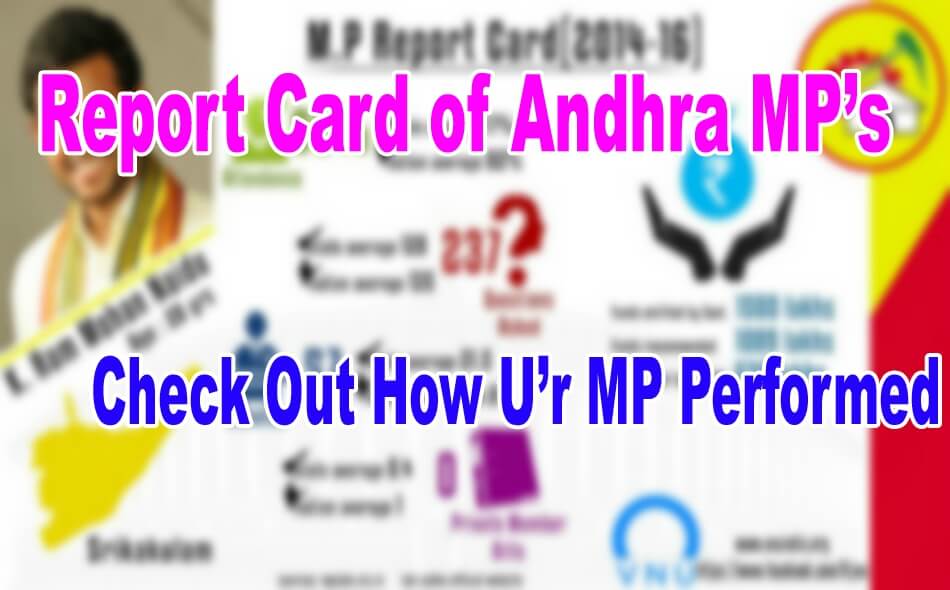 Vijayawada Needs U, a NGO organisation has released the performance report cards of 24 Andhra Pradesh MP's. Each individual report contains attendance, questions asked, debates participated, funds allotted and spent and the private bills put on by the member.
As per the reports issued by VnU, 14 MP's have more than 80% attendance. Regarding the questions asked Kottapalli Geeta stood top by asking 385 questions in the parliament, followed by Galla Jaydev with 252 questions. Young MP Rammohan Naidu, stood next by asking 237 questions. Regarding participation in debates too Galla Jaydev stood first with participating in 62 debates, followed by Rammohan Naidu with 57 discussions. Kesineni Nani has an attendance with 83 percent.
VnU (Vijayawada Needs U) founder Mr.Kilaru Naga Sravan has released the reports of the MP's in a press conference. He said that, these reports not only make all the MP's feel responsible, but it will also help the people who voted, to realize what the leaders have been upto in the last 2 years.
Here are the Individual Report Cards.
You can find the same on https://www.facebook.com/Vijnu/
"Vijayawada Needs U" Released Report Cards of Andhra MP's